Quality Beef Grade, Dressing Percentage & Grids
US - The average cattle feeder wants to be rewarded for above-average beef quality, and many have turned to some type of value-based "grid" marketing to earn premiums. After selling a few pens on a packer grid, some feeders lament it's less about quality and more about dressing per cent, the whole-carcass yield of beef, including bones in those cuts.
Taking a closer look, Paul Dykstra, beef cattle specialist with the Certified Angus Beef ® (CAB®) brand, admits that number is important.
"Falling below the industry standard of 63.5 per cent dressed weight means we start out on the grid several dollars behind the alternative live-weight sale price," he says. "Cattle that hang more pounds of saleable carcass weight as a percentage of live weight obviously put us at an advantage."
The rest of the grid proposition plays out through premiums and discounts based on carcass quality grade, including CAB brand premiums, along with yield grade (lean-to-fat ratio) and "outs" due to nonconformance.
Quality and yield grades drive dollars, and the illustrations show how those numbers add up ($/hundredweight/head), comparing industry-average cattle to those of high quality grade.
"The tables apply a fairly representative set of grid premiums and discounts to the two pens of steers," Mr Dykstra says. "We can banter about what the grade percentages should be on high-marbling cattle, but these figures are well below the extremes we've seen. Our math includes the 2016 average Choice-Select spread of $9.37/cwt., much wider than the current spread. As some cattle of higher quality grade tend toward higher yield grade as well, the high-marbling pen shows the disadvantage of more Yield Grade 4 discounts, for argument's sake."
Results for this comparison show a $6.79/cwt. premium for the high-marbling pen over the cash market, a $44.05/head advantage over the industry average pen.
"In contrast, if we focus strictly on dressing percent, a fairly common 1-point difference above or below industry average creates a $27.30/head impact with a base price of $195/cwt. and live weight of 1,400 lb.," Mr Dykstra notes. "Ideally, we'd own multi-faceted cattle that give up nothing in dressing percent and simply capture further premiums. This example just shows quality drivers can overcome the dressed-yield driver in some pens."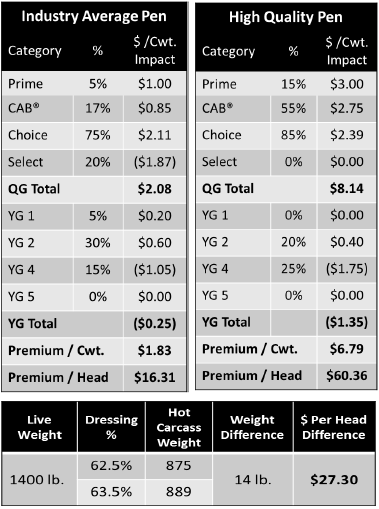 TheCattleSite News Desk