Cull Cow Prices Down to Conclude November
UK – Much of the beef and cattle market went unchanged last week as cull cow values continued to trend lower, although steer price recovery was seen in Scotland and Northern England.
Cow prices were back 6.7 p/kg to 213.1p/kg, despite a fall in slaughter number to 2,076, down 280 on the previous week, according to the Livestock and Meat Commission (LMC) for Northern Ireland.
Plant cow quotes fell to 230-250p/kg. For prime beef, the plants quoted 360-364p/kg, with quotes running from 356-364p/kg.
The LMC reported one plant maintained base quote at 362-364p/kg. However, it introduced a reduction of 10p/kg on prime cattle grading.
O-3 cows were back to the 230-250p/kg margin.
Prime and cow slaughter was down by 188 and 280 respectively. Cattle shipments to the Great Britain came in at the lowest level since late December 2012.
Great Britain steers and heifer lifted a penny, 'stabilising' slightly to 392.2p/kg and 389.4p/kg for steers and heifers.
Biggest gains were seen in Scotland and Northern England, up 2-3 p/kg to 417.9 and 394.2p/kg respectively. Midlands and the South saw lower prices.
Heifer trade also varied. Scotland and the South reported 2 pence gains, Midlands saw prices drop a penny and Northern markets went largely unchanged.
Liveweight
Marts saw beef cows fetch 172p/kg if of good standard. Plainer animals managed 128p/kg. Dairy cows sold for around a pound a kilo, averaging 103p/kg.
Best steers and heifer averaged 209p/kg. Second quality animals sold around 180p/kg.
Store trade remained firm – bullocks+500kg averaged 209p/kg.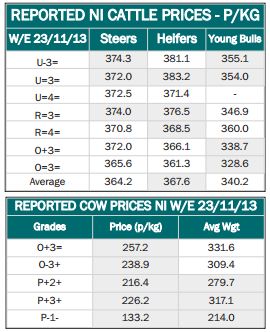 TheCattleSite News Desk