Liveweight and Deadweight Prices Flatter Last Week
UK – Beef plant quotes have remained steady, around the mid-360's pence per kilo for U-3 grade animals as liveweight trade was hurt by a fall in demand.
This is according to the Livestock and Meat Commission Northern Ireland which confirmed quotes remained steady at 364-368p/kg with in-spec carcasses receiving a bonuses of 8-14p/kg.
Prime cattle slaughter increased by over 600 to 7,394, coinciding with a drop in imports from the Republic of Ireland by over 50, the Livestock and Meat Commission has said.
Processors have been reporting improved supplies of cows which ranged from 270-280p/kg for O+3 animals. Cattle exports for direct slaughter consisted of 262 prime and 52 cows.
Steers and heifers stuck to last week's values, only ranging 1p/kg at 366.1 and 370.5p/kg respectively.
Northern Ireland saw more stability in prices as losses hit the Midlands and southern England. R3 steers in Northern Ireland were unmoved at 376.7p/kg, although heifers dropped 1p to 377.8p/kg.
Across Great Britain, heifers were back 1.7p/kg to 349.6p/kg amid consistency in Scotland and the North. However, heifers sold for 5.8p/kg and 3.4 p/kg less in the Midlands and southern England respectively.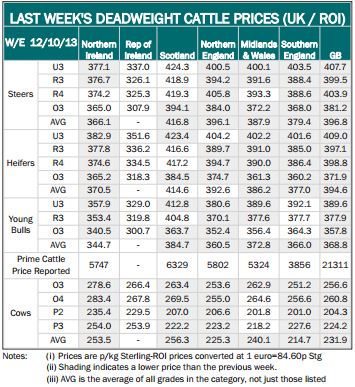 Cow cull prices declined across Great Britain, by an average of 8.4 p/kg. This was well above Northern Ireland which fell by 2.9p/kg, according to the LMC.
Liveweight prices were restrained as first quality finished steers averaged 220p/kg with second quality finishing 195p/kg.
Top heifers made 210p/kg (down 8p) while second heifer dropped 9p to 185p/kg.
Store trade also remained similar to the previous week. Heavy bullocks average 222p/kg over 500kg and second quality bullocks averaged 192p/kg and Heifers topped at 235p/kg over 450kg.
TheCattleSite News Desk