Key Performance Indicators Show Lower Calf Registrations
NORTHERN IRELAND - The average prime cattle price in NI during June 2013 was 377.7p/kg, 16.4 per cent higher than June 2012 when the average price was 324.5p/kg, write market analysts at the Livestock and Meat Commission.
Meanwhile the cow price has increased by 5.6 per cent between the two periods to 284.6p/kg in June 2013.
The average R3 price in NI in June 2013 was 16.7 per cent higher than the corresponding month last year at 389.3p/kg with the GB R3 steer price increasing by 16.6 per cent to 402.3p/kg over the same period. This has widened the differential between NI and GB from 11.3p/kg in June 2012 to 13p/kg in June 2013.
The differential between NI and ROI has also widened from 6.3p/kg in June 2012 to 11.3p/kg in June 2013. Prime cattle throughput in June 2013 totalled 25,060 head, an 11.3 per cent increase on the 22,523 head slaughtered during June 2012. this increase in prime cattle throughput has been offset by a 5.4 per cent decline in average carcase weights from 341.5kg in June 2012 to 323.2kg in June 2013.
Meanwhile cow slaughterings were back by 7.6 per cent to 5,992 head in June 2013 but the average carcase weight was back just 2kg (-0.7 per cent). Imports of cattle for direct slaughter in NI plants durin June 2013 totalled 2,132, a 12 per cent reduction on imports during June 2012. Meanwhile the number of cattle exported out of NI has increased from 876 head in June 2012 to 1,573 head in June 2013.
This decrease in imports and increase in exports has coincided with a tightening in cattle availability in NI. The number of beef sired male animals on the ground age 12-30 months in June 2013 was 412,684, a reduction of 2.7 per cent on the 424,253 head recorded in June 2012.
However, the number of dairy desired male cattle in the same age bracket during June 2013 totalled 44,762 head, a 10.4 per cent increase on the 40,560 head on the ground in June 2012. If these figures are combined there has been a 1.6 per cent decline in the number of male cattle on the ground in the 12-30 month age bracket between the two periods.
The high cowculling rate this spring and reports of poor fertility due to last year's poor summer have had a knock on effect in terms of the number of calf registrations recorded during 2013 to date. In June 2012 42,711 beef sired calves were registered in NI and in June 2013 this declined to 38,009 beef sired calves.
This accounts for an 11 per cent drop in beef sired calfregistrations. the number of dairy sired male calves has also declined between the two periods, down by 17.6 per cent to 4,838 head in June 2013.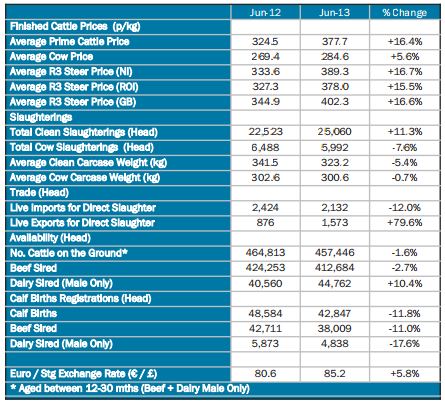 TheCattleSite News Desk