Flukicide Resistance Poses Problems After Wet Summers
Well managed farms with a history of flukicide use are noting a developing resistance to Triclabendazole, the only product on the market capable of dealing with liver fluke in the earliest stages of infection.
This is according to an Agrifood and Biosciences Institute (AFBI) report looking into infections by liver fluke, Fasciola hepatica and rumen fluke, Paramphistomum cervi on farms in Northern Ireland.
Since development in 1983, Triclabendazole has been well utilised, meaning fluke have evolved to cope with the effects of the drug.
Queen's University, Belfast trials showed widespread Triclabendazole resistance in sheep and cattle holdings across Northern Ireland in 2011/12.
The report has linked successive wet summers and a mild 2011/12 winter with the rise of fluke in UK cattle and sheep because of the impact mild and wet weather systems have on snail populations - the organism on which fluke parasites depend on as an intermediate host.
Galba truncatula snails harbour liver fluke and rumen fluke are supported by planorbid or bulinid snails- aquatic snails that thrive in flooded areas, often deposited by moving bodies of water.
A known cause of Black Disease onset, liver fluke results in abdomen distension and anaemia, often resulting in sudden death. Rumen fluke, the AFBI added, are not as dangerous but lead to diarrhoea, ill-thrift and death - particularly in young calves.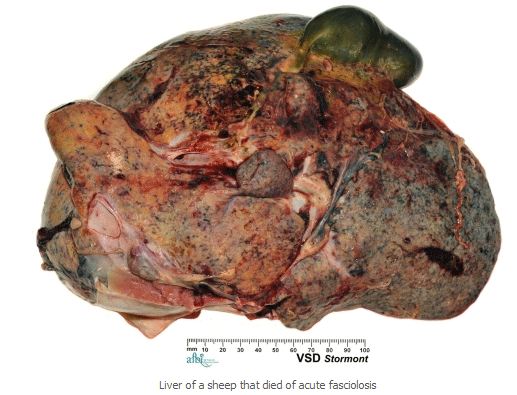 Two types of fluke infection exist; acute and chronic liver fluke (fasciolosis). Early stage infections are characteristic of acute fasciolosis and egg-producing adult parasites with chronic diagnosis.
Without Triclabendazole, there is no commercially available product to attack the earliest stages of infection in the acute fluke.
Early stage fluke control is possible through using oxyclozanide which is effective against both immature and adult flukes but the AFBI cautioned that this still leaves stock susceptible to acute fasciolosis.
Farmers are being urged to drain pastures and move stock to high ground if possible and measire flukicide efficacy testing through dung sampling before treatment and then four weeks after dosing.
Blood sampling has also been recommended to reveal liver damage.
Careful stock monitoring is advised to keep track of heavily infected animals that pose a herd risk as fluke 'shedders'.
Communication with veterinary surgeons is paramount and it is vital to tailor treatments according to individual holdings.
Triclabendazole use, the AFBI concluded, should only occur in emergencies and be accompanied with a compound to tackle late immature and adult flukes.
Michael Priestley
News Team - Editor
Mainly production and market stories on ruminants sector. Works closely with sustainability consultants at FAI Farms