Benefits of Local Food Highlighted by Industry Leaders
SCOTLAND - Farming and meat industry leaders visited a Scottish meat processing plant on Friday to highlight the benefits of sourcing meat products from trusted local suppliers.
Quality Meat Scotland chairman, Jim McLaren, and NFU Scotland president, Nigel Miller, toured the 60,000 square foot Simon Howie Foods plant near Dunning and met some of the 110 staff employed at the premises.
The £14 million turnover business was established in 1986 and also includes two award-winning retail butchers shops in Perth and Auchterarder. The company produces around 500 product lines for around 150 hotels and restaurants as well as Tesco, Sainsbury, Asda and Morrisons.
Simon Howie, Managing Director of Simon Howie Foods, said his business ensured the traceability and quality of the meat it sells by in-depth knowledge and understanding of its suppliers.
"We pride ourselves in the relationships we have built up with our suppliers and our customers. That relationship is based on dealing with people we know and people who know us and know we won't compromise on the quality of what we sell to them," said Mr Howie.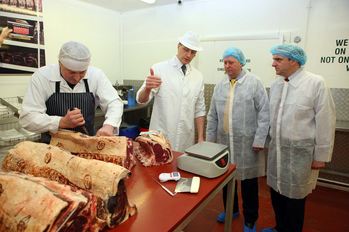 "We don't deal with intermediaries and our relationships with our suppliers go back as far as 25 years. That integrity puts our business in a very strong position at a time like this," he added.
Jim McLaren, Quality Meat Scotland chairman, said the business was a great example of the benefits of a short supply chain and buying local.
"The beef industry in Scotland has devoted a great deal of time and effort to ensuring that the Scotch brand has one of the most robust quality assurance schemes in the world.
"Our traceability is second to none and the benefits of that total commitment to ensuring our Scotch Beef label is underpinned by some of the most rigorous standards in the world. This puts our industry in a position of strength and allows consumers to have 100% confidence in Scotch Beef."
Nigel Miller, NFU Scotland President said: "Simon Howie's business is a perfect example of the integrity and values on which the Scottish livestock sector's reputation has been built. Quality meat products being delivered to the consumer through a short chain of committed professionals.
"Consumers are looking for traceability and quality to be built into every step their food takes from farm to plate and Scotland has the standards and systems in place that can deliver that."
TheCattleSite News Desk