Irish beef exports to the UK increase 15%
Dairy exports increase by 39%
New figures released today in the annual Bord Bia Export Performance and Prospects report 2022/2023 reveal that exports of Irish beef to the UK increased 15% to reach €1.1billion, remaining consistent at 43% of total Irish beef exports, according to a press release from Bord Bia.
Due to continued strong consumer demand, the UK remains the largest single market for Irish beef exports, reinforcing the importance of Ireland as a key strategic partner and supplier of premium quality grass fed beef.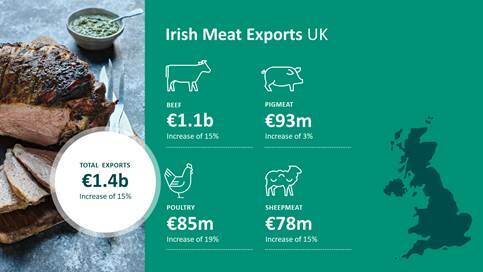 Exports of Irish Dairy to the UK increased by 39% to €1.2 billion. The UK remains a key market for cheese and butter which were the top performers accounting for 50% of exports. This positive performance can be attributed to a return to pre-pandemic trading patterns in 2022 and the UK continues to account for 19% of total Irish dairy exports.
Overall, the value of Ireland's food, drink and horticulture exports to the UK increased by 20% to €5.4 billion in 2022.