Research suggests that 100% pasture-fed beef is a source of omega-3
A research paper just published in the scientific journal Future Foods suggests that certified grass-fed beef could be recognised legally as a "source of long-chain omega-3 fatty acids", following work carried out at Newcastle University.
In humans these omega-3 fats have anti-inflammatory properties and a deficiency contributes to a wide range of adverse mental and physical health conditions, including coronary heart disease. However, a major weakness of many modern diets around the world is a shortage of these types of fatty acids, exacerbated by excess omega-6 fats.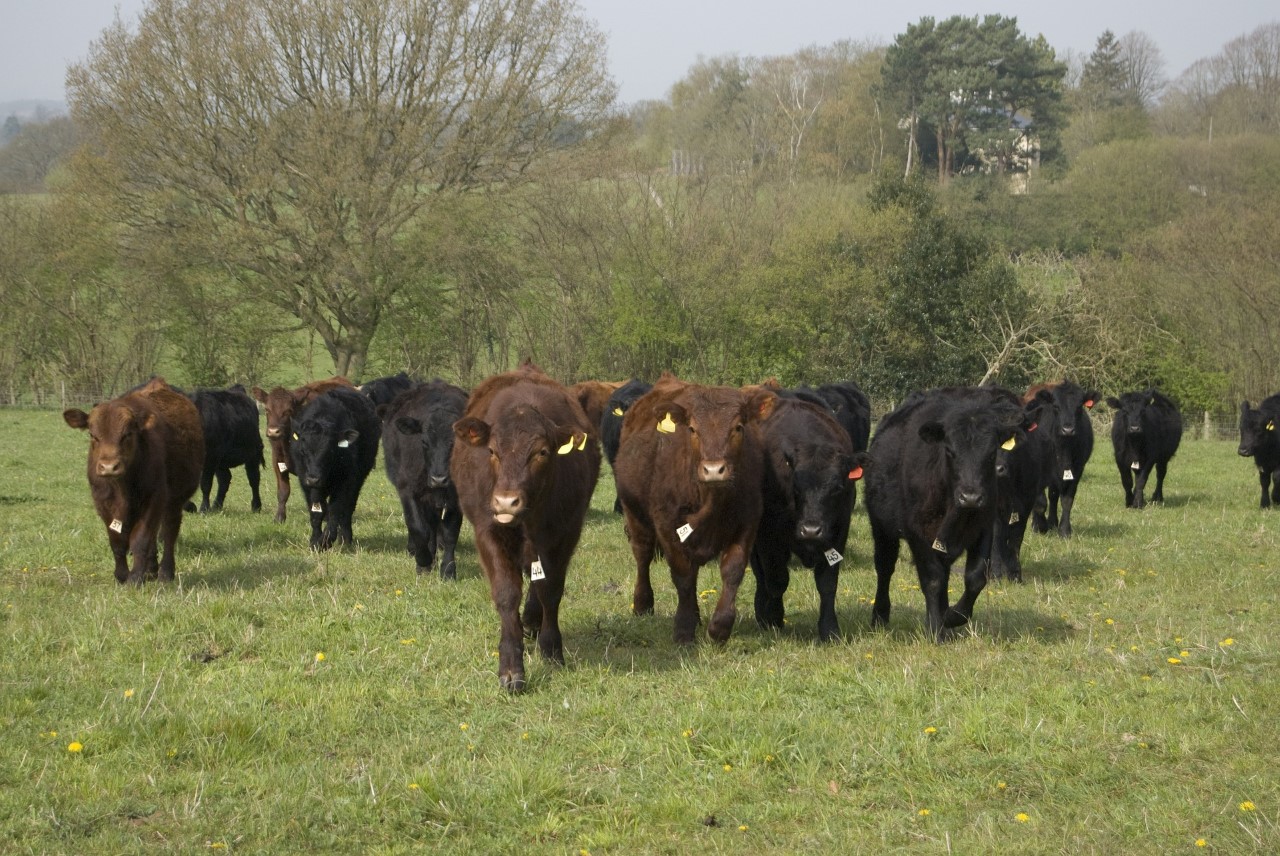 "Whilst differences between organic and conventionally reared beef have been studied before, this is the first record of the extra benefit from cattle fed 100% forage diets throughout their entire life," says lead researcher Gillian Butler.
"We found that Pasture for Life beef has more than 40mg long-chain omega-3/100g of the meat. This means certified farmers could make a nutritional claim when selling their beef, as it qualifies as a 'source for omega-3 fatty acids' under European Food Standards."
Non-organic and organic sirloin steaks were bought from two supermarkets during May and June 2019. These were compared with steaks from cattle from two farms certified Pasture for Life – meaning they were 100% pasture-fed. Steaks from animals kept primarily for vegetation management, also known as conservation grazing, all of which were 100% pasture-fed, were also included in the study, which considered the fat composition of each steak.
"The results show clear differences between the concentration of the good long-chain omega-3 fatty acids and the not-so-good omega-6 fatty acids in the meat between the cattle diets (see Figure 1).
They confirmed that feeding grains and cereal by-products produces less omega-3 fatty acids in the meat and more of the less desirable omega-6 fatty acids. The ratio of the omega-6 to omega-3 is also much poorer for grain-fed beef at 7:1 compared to a healthier 2:1 for beef from 100% pasture-fed cattle."
Figure 1: Mean concentration of fatty acids in muscle tissue in sirloin steaks from four production systems
LA = linoleic acid (omega-6 or n-6 fatty acid)
ALA = alpha-linolenic acid (omega-3 or n-3 fatty acid)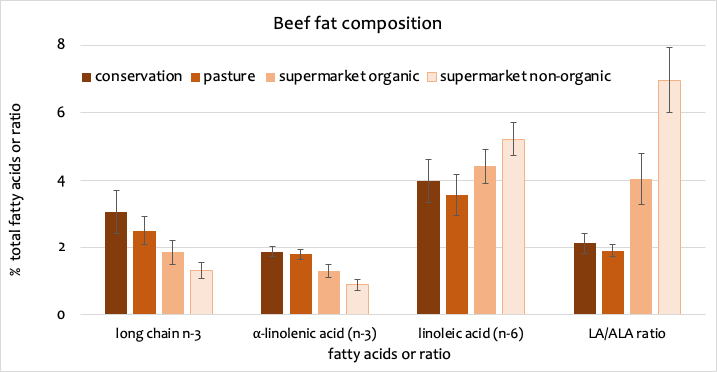 "This research clearly shows that what animals eat has a direct impact on the quality of the meat which consumers eat," says Jimmy Woodrow of the Pasture-Fed Livestock Association, which lies behind the Pasture for Life meat and dairy certification standards.
"The fatty acids we need to eat more of, occur in far higher concentrations in meat from animals fed just on diverse pasture and forage.
"This is exciting news; the scientific evidence is increasingly backing up what our farmers are doing and shows their meat is of the highest nutritional quality for people to eat."
The paper, "Forage-fed cattle point the way forward for beef?" is published in 'Future Foods – A Dedicated Journal for Sustainability in Food Science'.