New Module Fully Integrates Johne's Disease Testing into Laboratory Workflow
GLOBAL - Thermo Fisher Scientific today introduced the Applied Biosystems MagMAX CORE Mechanical Lysis Module designed to optimize nucleic acid purification in the detection of Mycobacterium avium subspecies paratuberculosis (MAP), the pathogen that causes Johne's disease, and other difficult to lyse pathogens.
MagMAX CORE is a magnetic bead-based universal sample prep solution designed to meet diagnostic laboratory's current and future testing needs that can be used to purify nucleic acids from 14 different sample matrices. Thermo Fisher now adds the first flexible module to the MagMAX CORE system.
The Mechanical Lysis Module is optimized for disruption of difficult to lyse pathogens and is used upstream from the MagMAX CORE Nucleic Acid Purification Kit to purify nucleic acids from all sample matrices commonly submitted for veterinary diagnostic testing for MAP including feces, milk and environmental samples.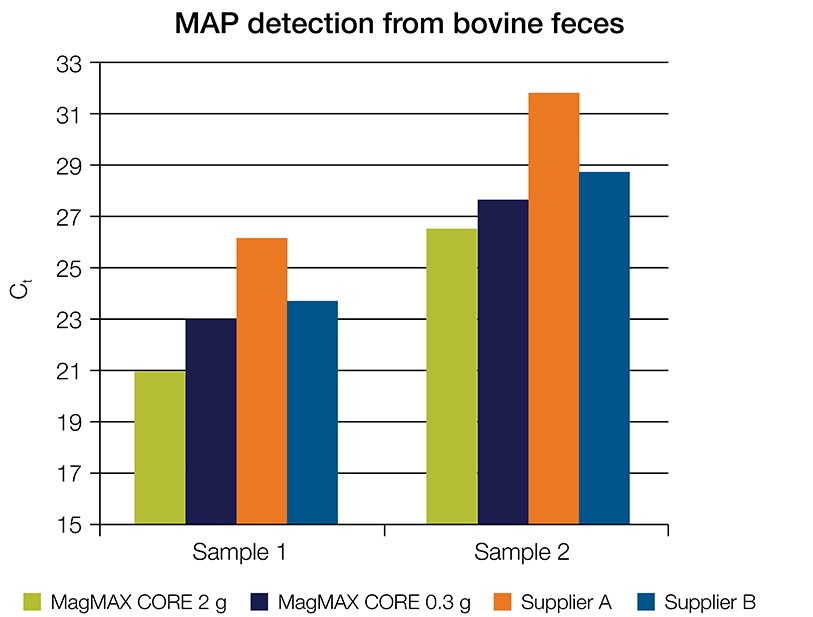 The MagMAX CORE Mechanical Lysis Module combined with MagMAX CORE produced earlier cycle time (Ct) results in a qPCR workflow on MAP positive bovine feces samples when compared against other kits on the market. This suggests a more efficient extraction of nucleic acids resulting in greater sensitivity while allowing for faster processing times. The larger sample volume (2 g of feces) offers superior results.
Greater Efficiency
As diagnostic laboratories seek efficiencies, MagMAX CORE offers greater convenience, consistent performance, and time and cost savings.
The MagMAX CORE Mechanical Lysis Module couples easily with the CORE reagents to support a laboratory's evolving testing needs. The flexible module is designed and validated for higher quality nucleic acids for both small and large volume starting sample inputs to increase diagnostic sensitivity.
"As MAP tends to be unevenly distributed in the sample, larger sample volumes can increase the chance to detect the bacterium," said Calvin Gunter, senior manager, product management, Thermo Fisher Scientific. "The Mechanical Lysis Module together with the MagMAX CORE can accommodate larger sample volumes, which helps increase sensitivity of the subsequent PCR test."
MagMAX CORE contains pre-mixed, room temperature reagents, which greatly improves product handling and storage. The same CORE chemistry is used for all sample types, and labs only have to purchase the module for their MAP testing needs.
"As the diagnostic testing environment is constantly evolving, labs need sample preparation that can grow with them, and our flexible modules are designed with that in mind," said Martin Guillet, global head and general manager for AgriBusiness, Thermo Fisher Scientific. "By providing a "CORE" chemical formulation, MagMAX CORE is created to be the last sample preparation labs may ever need."
For more information about the Applied Biosystems line of diagnostics products, please visit www.thermofisher.com/animalhealth.
TheCattleSite News Desk
Sponsored Article
---

Our Partners
---