June Results Confirm Strong First Half for US Beef Exports
US - US pork and beef exports continued to trend above year-ago levels in June, capping a very strong first half of the year.

According to statistics released by USDA and compiled by USMEF, exports also achieved higher values on a per-head-slaughtered basis and accounted for a steady-to-higher percentage of total production.
June beef exports were the largest of 2017, reaching 109,554 metric tons (mt) – up 11 per cent year-over-year and the largest June total since 2011. Export value increased 10 per cent to $602.5 million. For January through June, beef exports were up 12 per cent in volume (606,876 mt) and 15 per cent in value ($3.35 billion) compared to the first half of last year.
Exports accounted for nearly 13 per cent of total US beef production in June and 10 per cent for muscle cuts only – each about even with a year ago. The ratios were the same for January through June, which was also steady with the first half of last year. Export value per head of fed slaughter averaged $264.51 in June, up 6 per cent from a year ago. Through June, per-head export value was up 8 per cent to $269.21.
"In this time of large red meat production, the upward trend in per-head export value and in the percentage of production exported is especially critical to the industry," said USMEF President and CEO Philip Seng.
"These metrics confirm that we're not simply exporting more red meat because more is available – those exports are also generating excellent returns. It was also gratifying to see that the US trade deficit narrowed in June due to an expansion of exports, knowing that the red meat industry made another solid contribution toward that effort."
Chilled beef to Asia drives first-half growth, but exports increased to most destinations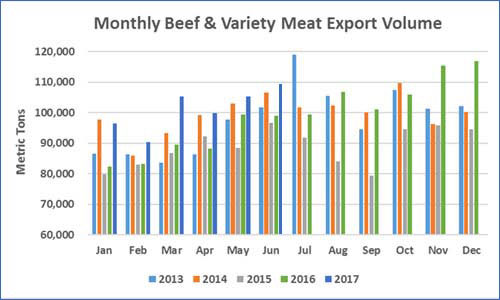 Beef exports to leading market Japan continued to gain momentum in June, with volume up 7 per cent to 27,521 mt and value up 13 per cent to $174.4 million (the highest since 2000). First-half exports to Japan exceeded last year's pace by 23 per cent in volume (150,812 mt) and 28 per cent in value ($905.8 million). This included a 40 per cent increase in chilled beef exports to 70,807 mt, valued at $511 million (up 38 per cent), as the US captured more than 50 per cent of the chilled beef market. While demand for US beef is very strong in Japan's retail and foodservice sectors, frozen exports to Japan face a higher tariff rate through March 2018. See more details on this issue online.
June exports to South Korea were the largest since January at 14,701 mt, up 14 per cent from a year ago, valued at $92.4 million (up 20 per cent and the highest of 2017). First-half exports to Korea were up 13 per cent in volume (83,357 mt) and 21 per cent in value ($527.7 million). The US also captured more than 50 per cent of Korea's chilled beef market as chilled exports totaled 18,816 mt (up 83 per cent year-over-year) valued at $166 million (up 86 per cent).
Other first-half highlights for US beef exports included:
Exports to Taiwan totaled 20,376 mt (up 19 per cent from a year ago) valued at $179 million (up 26 per cent). This included chilled beef exports of 8,178 mt (up 19 per cent) valued at $93.5 million (up 22 per cent) as the US captured more than 70 per cent of Taiwan's chilled beef market.


After a slow start to the year, exports to Hong Kong rebounded to post double-digit first-half gains in both volume (56,846, up 11 per cent) and value ($357.4 million, up 17 per cent).


Exports to Mexico increased 3 per cent in volume (114,923 mt) while slipping 3 per cent in value ($459.7 million). But muscle cut exports to Mexico – mainly shoulder clods, rounds and other end cuts – fared better, increasing 9 per cent in volume (61,782 mt) and 2 per cent in value ($353.8 million).


Led by a doubling of exports to Viet Nam and Indonesia and strong demand in the Philippines, exports to the ASEAN region increased 85 per cent in volume (20,532) and 61 per cent in value to $99 million.


Fueled by strong growth in Chile, Guatemala and Colombia, exports to Central and South America increased 11 per cent in volume (19,137 mt) and 5 per cent in value ($83.8 million). Exports to Brazil, which began in late April, totaled 412 mt of muscle cuts and 651 mt of variety meat at a combined value of $2.6 million.


After reopening in 2016, South Africa quickly emerged as the fourth-largest destination for US beef variety meat, with first-half exports (mainly livers) reaching 7,849 mt – an increase of nearly 500 per cent from a year ago – valued at $6 million.
TheCattleSite News Desk