FMD Vaccine Bank Receives Broad Support, Says NPPC
US - The Vice President of the National Pork Producers Council reports broad support for the creation of a Foot and Mouth Disease Vaccine Bank, Bruce Cochrane writes.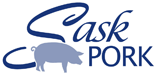 Farm-Scape is sponsored by
Manitoba Pork Council and Sask Pork
FarmScape is a
Wonderworks Canada
production and is distributed courtesy of Manitoba Pork Council
and Sask Pork.
The National Pork Producers Council is calling on the US government to provide funding in next year's farm bill for the creation of Foot and Mouth Disease Vaccine Bank.
NPPC Vice-President David Herring says a few years ago USDA APHIS changed its policy from trying to stamp out an FMD outbreak through euthanization to a vaccine protocol but no money was allocated for the production of the vaccine that would be required.
David Herring-National Pork Producers Council
It would cost us about a billion dollars to get this preparedness up to speed.
We also know today that capacity for vaccine is at its limit.
So, in the farm bill ask, we're asking for roughly 250 million dollars a year for the next five years to put the capacity in place and also to help fund more surveillance to be able to detect FMD or any other type of outbreak and also to help our states to get prepared and get ready and help communication and also help preparedness in case of that.
Vaccine is not any good if you don't have it in the right places, you don't have the surveillance that you need and then you don't have the coordination throughout the industry and the states to be able to make all the right decisions and get the product in the right place and change animal flows and all the different things that we would be confronted with but we're estimating it would be a roughly billion dollars in total cost.
Mr Herring says there is a broad base of support for an FMD vaccine bank from the pork industry, the dairy industry, the beef industry and feed grain producers.
He says there is also a lot of Congressional support on both sides of the aisle, especially from rural America, because it affects all aspects of agriculture.
TheCattleSite News Desk