US Beef Exports Remain Strong
US - US pork and beef exports capped a strong first quarter with excellent March results that included a new record volume for pork, according to statistics released by USDA and compiled by USMEF.

Beef exports totaled 105,310 mt in March, up 18 per cent year-over-year, with value increasing 22 per cent to $588.2 million. First-quarter beef exports were up 15 per cent in volume (292,215 mt) and 19 per cent in value ($1.61 billion).
March exports accounted for 12.5 per cent of total beef production and just under 10 per cent for muscle cuts only, each up slightly from last year. For the first quarter, the percentage of total beef production exported was down slightly from a year ago (12.4 per cent vs. 12.5 per cent) despite an increase for muscle cuts (9.8 per cent vs. 9.4 per cent). Export value per head of fed slaughter averaged $270.14 in March, up 11 per cent from a year ago, while the first-quarter average increased 10 per cent to $267.71 per head.
"Entering 2017 with record-large pork production and an uptick in beef slaughter, we knew this 'wall of US meat' presented a challenge for our industry," said USMEF President and CEO Philip Seng. "So the fact that first-quarter export volumes are higher than a year ago is not surprising, but it's important to look beyond that – to the higher percentage of production being exported and the strong return on those exports. The US is not just moving more meat internationally because we have more available. Our products are commanding solid prices and winning back market share in many key destinations, even with a strong US dollar and many trade barriers still in place. But our competitors are working every day to reverse this trend, so we must aggressively expand and defend our international customer base."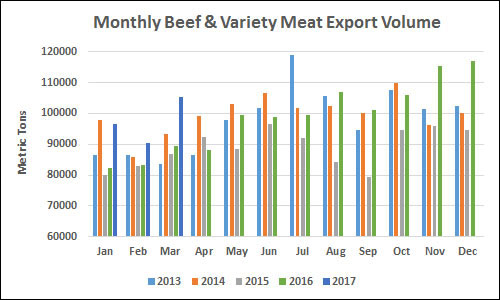 Beef exports move higher in Asian and North American markets
March beef exports to Japan increased 41 per cent in volume (28,135 mt) and 39 per cent in value ($167.7 million). This capped a very strong first quarter in which exports jumped 41 per cent (to 74,411 mt) and 42 per cent (to $427.3 million), respectively. This included a 55 per cent increase in chilled beef volume to 33,366 mt, as US beef captured its highest-ever market share in Japan's high-value chilled sector.
Coming off a record performance in 2016, beef exports to South Korea posted a very strong first quarter, with volume up 23 per cent to 42,551 mt and value increasing 30 per cent to $267.5 million. With US beef continuing to gain momentum in Korea's retail and restaurant sectors, first-quarter chilled beef exports were up 78 per cent to 8,508 mt.
Other first-quarter highlights (compared to year-ago levels) for US beef included:
Exports to Mexico posted a solid increase in volume (57,057 mt, up 17 per cent), while value increased 3 per cent to $226.8 million. An important destination for shoulder clods, rounds and other beef end cuts, muscle cut exports to Mexico expanded at an even faster pace, climbing 23 per cent in volume (30,015 mt) and 11 per cent in value ($175.1 million).


Despite a recent slump in the value of the Canadian dollar, beef exports to Canada have rebounded in 2017, with solid increases in both volume (29,909 mt, up 14 per cent) and value ($190.5 million, up 19 per cent).


In Taiwan, where US beef captures more than two-thirds per cent of the chilled beef market, exports increased 28 per cent in volume to 9,746 mt and 29 per cent in value to $85.7 million. This included a 10 per cent increase in chilled beef volume to 3,650 mt.
Beef exports to South America were down 2 per cent in volume (4,919 mt) but increased 16 per cent in value ($23 million), bolstered by a strong performance in Colombia and a recent rebound in Peru. This week USDA also confirmed the arrival of the first US beef shipments to Brazil since a BSE-related suspension was imposed more than 13 years ago. The first significant export volumes for Brazil will likely appear in the May USDA data, which will be available in early July.


March exports to South Africa (1,107 mt) were the highest since the market opened last year, making it the month's 10th largest volume destination for US beef. For the first quarter, South Africa ranked 11th at 1,971 mt. Export value was $1.5 million, with most of the volume being beef livers.
TheCattleSite News Desk