Continued Strong Pace for US Beef Exports in February
US - February results for US pork and beef exports were well above year-ago levels, with pork exports posting the strongest February volume on record, according to statistics released by USDA and compiled by USMEF.

Beef exports totaled 90,417 mt in February, up 9 per cent year-over-year, with value up 16 per cent to $508.5 million. Through February, beef exports were up 13 per cent in volume (186,905 mt) and 17 per cent in value ($1.02 billion).
February exports accounted for 12.6 per cent of total beef production and 10.1 per cent for muscle cuts only, which was steady with last year. January-February ratios were also fairly steady at 12.4 per cent and 9.8 per cent, respectively. Export value per head of fed slaughter averaged $276.96 in February, up 13 per cent from a year ago, while the January-February average was up 10 per cent to $266.34 per head.
"With trade deficits being a hot topic of conversation, especially with countries such as Mexico, China and Japan, it's important to highlight the sectors in which US products are competitive throughout the world and exports are thriving," said USMEF President and CEO Philip Seng. "The red meat sector is certainly in that category, as exports have helped fuel growth in the US industry and, in turn, larger US production has opened further export opportunities and generated positive returns for the entire supply chain."
Chilled beef to Japan, Korea and Taiwan continues to drive export growth
Japan continued to solidify its position as the leading volume and value market for US beef, with February exports climbing 48 per cent from a year ago in volume (23,789 mt) and 55 per cent in value ($134.3 million). Through February, exports to Japan were up 41 per cent in volume (46,276 mt) and 44 per cent in value ($259.6 million). This included a 60 per cent increase in chilled beef volume to 19,404 mt. Japanese import data showed that US beef overtook Australian beef in the first two months of the year, with US market share climbing to 45.6 per cent while Australia's dropped to 44 per cent.
Strong momentum continued for US beef in Korea, where February exports increased 11 per cent to 13,093 mt valued at $86 million (up 26 per cent). This pushed the two-month totals up 23 per cent in volume (28,287 mt) and 31 per cent in value ($177.6 million). Chilled exports through February were up 95 per cent to 5,384 mt.
In Taiwan, February exports jumped 33 per cent from a year ago to 2,886 mt, while value increased 26 per cent to $25.3 million. Through February, exports were up 28 per cent in volume (6,477 mt) and 25 per cent in value ($55.1 million). US beef holds 70 per cent of the chilled beef market in Taiwan, the highest of any Asian market. Through February, chilled exports to Taiwan increased 12 per cent to 2,479 mt.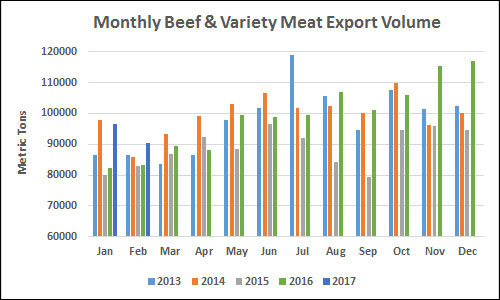 Other highlights for US beef included:
Exports within North America are off to a solid start in 2017, with January-February exports to Mexico increasing 14 per cent from a year ago in volume (36,235 mt) and 3 per cent in value ($147.4 million). Exports to Canada are showing signs of a rebound, with volume up 11 per cent to 19,446 mt and value up 18 per cent to $123.5 million.


Beef exports to two key South American markets increased significantly in value through February, with exports to Chile up 22 per cent year-over-year to $8.9 million and exports to Peru up 68 per cent to $4.3 million. The increase in Chile was achieved despite a 16 per cent decline in volume (1,417 mt) while volume to Peru was up 16 per cent to 1,130 mt.


A rebound in the Philippines and continued growth in Vietnam pushed January-February beef exports to the ASEAN region up 33 per cent in volume (4,774 mt) and 19 per cent in value ($27.3 million). Exports to Indonesia, which set a value record of $39.4 million last year, are off to a slow start in 2017 with value through February down 48 per cent to $3.5 million.


Strong growth to most Asian markets helped offset a slowdown to Hong Kong, where January-February volume was down 21 per cent to 16,131 mt, valued at $104.7 million (down 12 per cent).
TheCattleSite News Desk