OIE Reports Spread of Deadly Airborne Disease in Hazafon
ISRAEL - The World Organisation for Animal Health (OIE) has reported four new oubtreaks of haemorrhagic septicaemia at four different farms located in Hazafon.
The OIE received an immediate notification on 6 March, wherein the presence of the Pasteurella B (HS) virus (causal agent) was suspected on 20 February and confirmed eight days later (28 February), when a polymerase chain reaction (PCR) test was carried out at the Kimron Veterinary Institute (Bacteriology Division) on the same date. An immediate notification was sent to the OIE on Sunday, 5 March.
The report states that a total of four outbreaks occurred at various cattle farms located in Hazafon, and the affected population consists of free-range beef cattle. A total of 20 animals showed signs of susceptibility, out of which approximately nine animals were found to be affected. A total of nine deaths has been recorded.
While the source of the outbreaks remains inconclusive, the epidemiological investigation is ongoing.
The OIE, in conjunction with the Israeli veterinary authorities, has applied several control measures, some of which include:
Movement control inside the country,
Quarantine,
Zoning,
Vaccination (provided such a vaccine exists),
Treatment of affected animals through use of antibiotics.
Apart from the control measures mentioned above, no other measures are being applied.
The map below indicates the locations where the recent outbreaks of haemorrhagic septicaemia have taken place: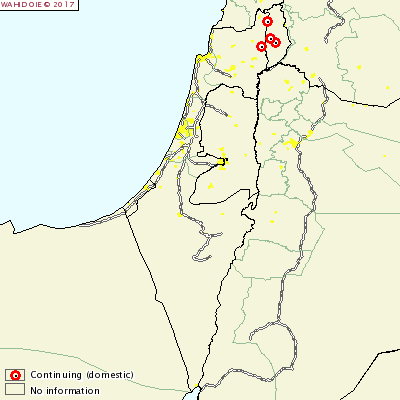 TheCattleSite News Desk