October Beef Exports Remain Strong
US - US pork and beef exports continued to build momentum in October, with both achieving double-digit increases from a year ago, according to statistics released by USDA and compiled by the US Meat Export Federation (USMEF).

Beef exports set new monthly record in Taiwan; chilled exports continue to shine
October beef exports were highlighted by a record performance in Taiwan, where volume was up 90 per cent from a year ago to 5,177 mt. This pushed January-October exports to Taiwan to 35,241 mt (up 20 per cent year-over-year) valued at $284.9 million, up 7 per cent and on track for a new record.
October exports were also outstanding to Japan, where volume soared 40 per cent to 20,089 mt valued at $119.8 million (up 34 per cent). January-October exports to Japan were up 21 per cent in volume (213,636 mt) and 13 per cent in value ($1.24 billion). Japan's October imports of chilled US beef exceeded chilled imports from Australia for the second consecutive month.
In Korea, October exports were 16,897 mt (up 63 per cent year-over-year) valued at $98.8 million (up 68 per cent). January-October exports to Korea were 139,592 mt valued at $814.2 million, up 36 per cent and 21 per cent, respectively, from a year ago. Export value to Korea is on pace to exceed the 2014 record of $847.4 million, and with a strong finish could approach the $1 billion mark in 2016.
Chilled beef exports to both Japan and Korea have excelled in 2016, with shipments to both markets up nearly 40 per cent year-over-year. Through October, chilled exports were the largest on record to Korea and the largest to Japan since 2003.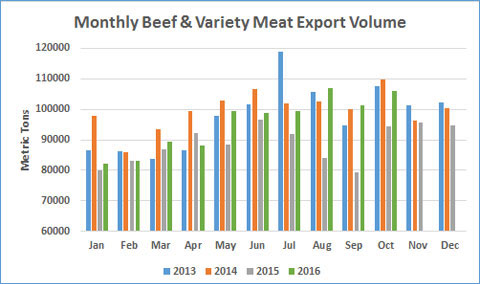 Other January-October highlights for US beef exports include:
Despite the persistent weakness of the peso, beef exports to Mexico were up 8 per cent from a year ago to 195,799 mt, though export value to Mexico has trended lower this year ($812.1 million, down 11 per cent).
While January-October exports to Hong Kong were lower year-over-year (86,943 mt, down 6 per cent, valued at $525.2 million, down 18 per cent), October exports were easily the largest of the year in both volume (11,998 mt) and value ($72.8 million).
Fueled by strong growth in Indonesia and Viet Nam, exports to the ASEAN region increased 27 per cent in volume (22,206 mt) and 3 per cent in value ($119 million).
Despite a decline to leading destination Egypt, beef liver exports increased 9 per cent to 67,394. Larger volumes to Mexico and the addition of South Africa, a promising liver market that reopened earlier this year, offset lower shipments to Egypt, which takes about 75 per cent of US liver exports.
TheCattleSite News Desk