CME: Analysts Make Wide-Ranging Estimates Ahead of Cattle on Feed Report
US - This Friday will be busy as USDA's National Agricultural Statistics Service (NASS) bunches-up the release of livestock/meat reports late this week.
Here we will look ahead to Friday's release of the monthly Cattle on Feed report.
Several news services released compilations of pre-report estimates from market analysts they survey. Looking across those releases, the averages and ranges are similar.
There is a fairly wide range in the Cattle on Feed pre-report estimates, leaving lots of room for the actual USDA-NASS report to be "within industry expectations".
There was one more slaughter day in May of this year compared to 2015's, which is important to consider, especially regarding animals marketed during the month.
Our table (below) is of one compilation, that of Urner Barry.

The first statistic watched by market participants is the number of cattle placed into feedlots during May - the average is for placements to be 9.5 per cent above a year ago.
The range is rather wide, but all but one pre-report estimate calls for a year-over-year increase in the Urner Barry summary.
In some other compilations, all analysts surveyed forecast increased placements compared to 2015's. Several factors are behind that year-over-year increase.
Expectations are that quite a few cattle in Oklahoma and Texas were on wheat pasture that was being "grazed-out".
Last year, May's placements were small, so comparisons are to a less than normal amount. Note that placements a year ago were especially small by historical standards in the Southern Plains.
Third, the 2015 US calf crop was larger increasing the supply of animals that can be placed.
Importantly, cattle feeding profitability in the last two months was much better than a year ago, enticing cattle feeders to buy animals. The average of pre-report estimates is for animals marketed by feedlots during May to be 4.6 per cent above 2015's.
Adjusted for slaughter days in the month, daily average marketing would be 99.6 per cent of a year earlier (down 0.4 per cent).
Looking at slaughter weights, it does not appear that cattle marketing's were slow like in May of 2015. In fact there is evidence that some feedlots sold steers early ("green" in industry parlance).
The most important barometer in this particular report is probably the total on-feed count. The range of pre-report estimates is up 1 per cent to 3 per cent year over-year as of June 1st, the average is up 2 per cent. The June 1 count is expected to be the largest for that date since 2012.
If the report on Friday is as expected, there will be some key points or implications.
Animals coming off wheat that was grazed-out will tend to be heavy, many steers probably weighed over 1000-pounds.
Compared to recent years, a few more heifers' have likely began entering feedlots in May as cow-calf operations decide to breed fewer animals of that age than a year ago.
The largest year-over-year increases in cattle placed will likely be in Southern Plains states.
On the surface, the number of cattle marketed adjusted for slaughter days may seem rather low, but compared to the number of animals that have been on feed for over 120 days, the marketing rate was much improved compared to 2015's.
Finally, while the on-feed count is expected to be up about 2 per cent year-over-year, that hardly indicates a "surge" in fed cattle to be marketed that could depress cattle prices further when measured against the discounts already indicated by the Live Cattle futures.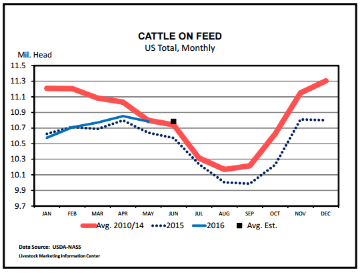 TheCattleSite News Desk