Latest Bluetongue Reports: More Outbreaks in France, Hungary
EUROPE - Outbreaks of Bluetongue continue to be reported in Europe, with 22 new outbreaks reported in France and two in Hungary last week.
The fifteen French outbreaks reported to the World Organisation for Animal Health on 14 December (see top image) were of serotype eight, and caused 17 cases in cattle.
On 18 December, a further seven outbreaks were reported, affecting seven cattle (see map below). The cases were detected through the use of analytical surveillance.
These cases left over three thousand cattle and over one thousand sheep on the affected farms susceptible to the disease.
The outbreaks occurred in the central region of France.
As of December 18, the French agriculture ministry says there have been in total 135 cases of bluetongue that have been detected in the centre of France since mid-September.
This includes 37 in Allier, 50 in Puy-de-Dôme, 9 in Creuse, 4 in Cher, 4 in Saône-et-Loire, 6 in Nièvre, 10 in the Loire, 1 in Indre, 6 in Cantal, 2 in Aveyron, 3 in the Haute Loire, 1 in Loiret, 1 in Lozère and 1 in Correze.
France is also contending with widespread outbreaks of avian influenza at present.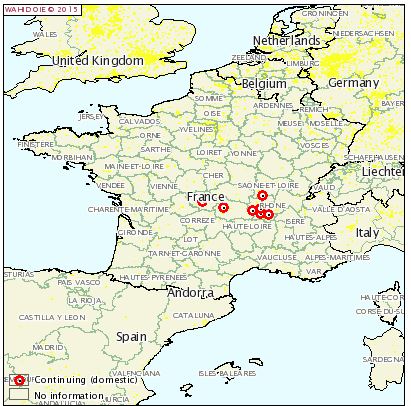 There is as yet no word on the serotype of the Bluetongue virus involved in Hungary's latest outbreaks, reported on the 16 December.
The outbreaks affected two cattle farms in Borsod-Abauj-Zemplen and Bacs-Kiskun. Two cases were detected in the two herds, which contained a total of 296 cattle.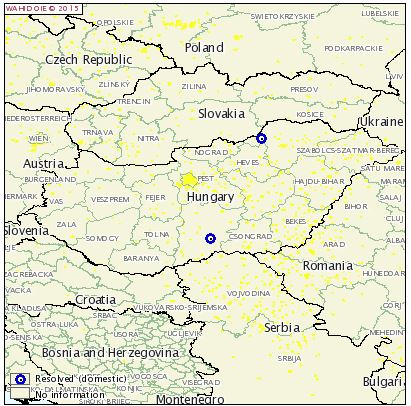 Further Reading
You can visit our Bluetongue information page by clicking here, and click here to read the previous Bluetongue report.