Latest Foot and Mouth Outbreaks: Turkey, Morocco
GLOBAL - More outbreaks of Foot and Mouth disease have been reported in Turkey and Morocco this week.
The two Turkish outbreaks (see map above) were found in Bitlis and Amasya regions. There were 432 serotype A cases in cattle, with 34 deaths, leaving over 2500 animals susceptible.
The Turkish authorities suspect the infections could be down to illegal movement of animals, contact with infected animals at grazing or watering, or fomites spread by humans, feed or vehicles for example.
In response to the outbreaks, 1249 cattle have been vaccinated in the two districts.
In Morocco (see map below), 30 cattle and 41 sheep have been destroyed after a Foot and Mouth outbreak in the Centre region. Eleven cases were detected on the farm.
Movement controls, quarantines and stamping out operations are being conducted in tandem with vaccination efforts in Morocco. Nearly 40,000 cattle have been vaccinated in response to the Foot and Mouth outbreaks in the country.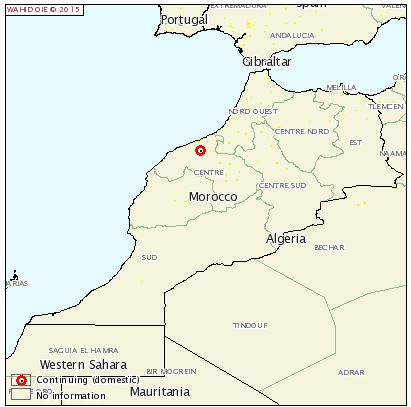 Further Reading
You can visit the Foot and Mouth page by clicking here.
TheCattleSite News Desk