General Improvement to UK Beef Price
UK – Deadweight heifer prices lifted 2 pence per kilo in both Northern Ireland and Great Britain, as euro against sterling pressure caused a relative drop for the Republic of Ireland last week.
Average steer and heifer prices in Great Britain were 365.5 and 368.2 pence per kilo, according to the Livestock and Meat Commission (LMC). Northern Ireland heifers were up to 360.9 pence per kilo.
Meanwhile, Republic of Ireland trade improved but was hampered exchange rate movement, meaning a prices are lower in relation to sterling values despite lifting. Ireland's R3 steer price and heifer prices are running 62 and 52 pence per kilo below Northern Ireland with steers at an equivalent of 315.1 pence per kilo.
R3 heifers, the strongest mover in Northern Ireland, were up 3.3 pence per kilo to 367.3 pence, the highest weekly jump for the category for a year.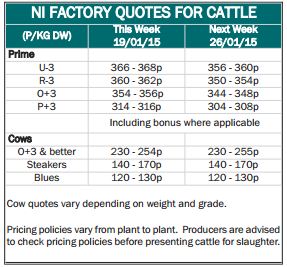 The deadweight steer trade in NI last week was similar to the previous week with an R3 steer price of 367.8p/kg. In GB last week the deadweight prime cattle trade generally improved with average steer and heifer prices up in the region of 2p/kg to 365.5p/kg and 368.2p/kg respectively.
The average R3 steer price in GB last week was 371p/kg, 3.2p/kg higher than the equivalent price in NI. The price paid for R3 grade steers in NI was broadly similar to R3 steer prices in the English regions last week but was 9.6p/kg lower than the 377.4p/kg paid for R3 grade steers in Scotland.
Meanwhile, the differential in R3 heifer prices between NI and the equivalent GB price last week was 5.6p/kg. The cow trade in NI has remained firm in recent weeks with the average cow price up by 3.9p/kg to 226.1p/kg last week, 4.1/kg higher than the average cow price in GB.
The O3 cow price in NI last week was 247.6p/kg, 5.9p/kg lower than the equivalent price in Scotland but higher than the O3 cow price in all other GB regions.
The cull cow trade has also remained firm in ROI with an equivalent O3 cow price of 250p/kg last week. With the value of euro against sterling continuing to come under pressure deadweight cattle prices in ROI last week were generally down in sterling terms despite improvements in the deadweight cattle trade south of the border.
The R3 steer price in ROI last week was the equivalent of 305.6p/kg while the R3 heifer price was the equivalent of 315.1p/kg. This puts the differential in R3 steer and heifer prices between NI and ROI at 62p/kg and 52p/kg respectively.
Quotes from the Plants
Steady cattle supplies have flowed – throughput was over 1,000 head higher than the corresponding week in 2014. Northern Irish quotes ranged from 366 to 368 pence per kilo for U3 grade cattle.
Quotes for good quality O+3 grade cows ranged from 230-254p/kg across the plants this week with similar quotes expected early next week.
TheCattleSite News Desk