'Modest' Beef Supply Drop Expected Next Year
US – Beef production in 2015 has been revised higher by the US Department of Agriculture, although output will still be 2.4 per cent under 2014 levels.
World Supply and Demand Estimates (WASDE) project total beef production at 23.861 billion pounds, 0.6 per cent higher than the September forecast, a, drop of 2.4 per cent from 2014 levels.
Per capita, around four pounds less beef will be available than in 2013 at 52.4 pounds, a seven per cent decline in two years.
Beef availability is currently almost 20 per cent below 2007, helping to explain current price levels seen in the US market, said analysts Len Steiner of Steiner Consulting and Dr Steve Meyer of Paragon Economics in their daily CME report.
Guessing what lies ahead depends on the Australian drought picture because of imports from that country being so high, they added.
"This forecast certainly has a lot of risk to it," said Messrs Steiner and Meyer.
"Australia has shipped a significant amount of beef to the US in 2014 in part because prices were high but also because they had meat to sell.
"If drought breaks there, then we could see lower Australian imports, further reducing the supply of beef available to the US consumer.
"Please note that USDA expects beef imports next year to be 2.7 billion pounds, slightly higher than this year."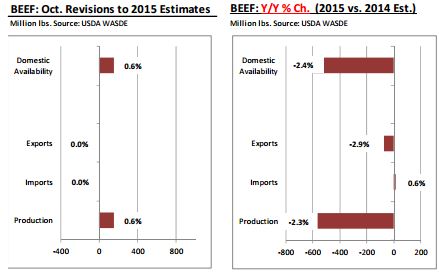 Graph courtesy of the daily livestock report
Further Reading
You can view the full report by clicking here.
TheCattleSite News Desk