Will Beef Prices Have Trouble Sustaining Current Levels?
US - Beef prices were sharply higher last week, although there is a lot of speculation that boxed beef prices may have trouble sustaining current levels in the next few weeks, write two leading economic analysts.
Cattle slaughter for the week was pegged at 597,000 head, down 4.38 per cent compared to a year ago, report Dr Steve Meyer of Paragon Economics and Len Steiner of Steiner Consulting Group.
Steer/heifer slaughter for the week is estimated at 461,000 head, down 5.7 per cent compared to the previous week. Cow and bull slaughter, on the other hand, was up almost 1 per cent compared to last year. Cow numbers have increased in the last couple of weeks, which is not unusual for this time of year as some cows held over the holidays finally make it to market.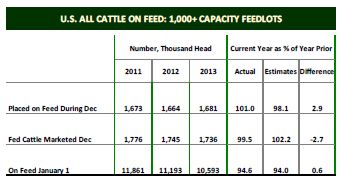 Cow prices also have been very firm, which has supported numbers coming through. The expectation, however, is for both beef and dairy cow slaughter numbers to be down into the spring on record high calf values and some of the best feed/milk ratios on record. This will tend to limit overall beef supplies going into the spring and underpin beef prices.
Cattle on Feed Update
Total cattle on feed as of January 1, 2014 were estimated at 10.593 million head, 5.4 per cent lower than a year ago. The total inventory number came in slightly above prereport estimates, which were expecting feedlot supplies to be down a full 6 per cent from last year.Coming into the report, there was plenty of disagreement among analysts as to the number of cattle placed on feed in December. Lower feed costs and a generally positive margin outlook likely encouraged feedlots to stay aggressive in placing cattle. Placements in the summer were particularly light and feedlots had plenty of open space.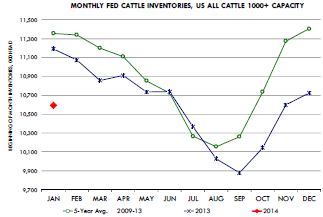 Grain markets are expected to remain under pressure into the spring with ample corn stocks. The supply of feeders coming from Canada and Mexico was higher in December, which likely contributed to the increase in placements for the month. As we noted in our DLR on Jan 22, imports of Canadian feeder cattle have increased sharply in the last couple of months.
Total imports of Canadian feeder cattle for the period Dec 1 - Dec 28 were 39,786 head, up some 35,578 head compared to the very minimal numbers bought last year. Imports from Mexico were also up during this period, with total imports pegged at 145,580 head, 18,136 head (+14 per cent ) compared to the same period a year ago. Combined imports of Mexico and Canadian feeder cattle during the four full December weeks were up almost 54,000 head. The increase in placements will modestly increase cattle availability in the spring. The placement numbers showed that placements of steers/heifers over 700 pounds increased by 27,000 head (+2.9 per cent ). On the other hand, placements of feeders under 600 pounds were down 10,000 head or 2 per cent .
The overall magnitude of the change, however, is relatively small since December placements usually tend to be historically small. Overall, the small inventory implies ongoing tight cattle supplies in Q2 and Q3 . Cattle marketings in December dropped 0.5 per cent despite there being one extra marketing day .
TheCattleSite News Desk