LMC: Cattle Prices Remain Pressured as Throughput Lifts
UK - Beef prices have been under pressure in recent weeks but British prices have stayed 'well above' Northern Ireland prices, say analysts at the Livestock and Meat Commission.
Deadweight Cattle Trade
Quotes from the NI plants this week for U-3 grade prime cattle were 354-356p/kg with the 8p/kg bonus available for steers and heifers that kill out in spec. Quotes for O+3 grade cows have remained fairly steady this week at 285-295p/kg. Quotes for Monday are 350-352p/kg for prime stock and 274-285p/kg for O+3 grade cows.
Throughput of prime cattle in the NI plants last week was up 426 head on the previous week at 5,722 head with 1,720 cows also slaughtered. Imports of prime cattle from ROI for direct slaughter last week totalled 556 head with 95 cows also imported. Meanwhile 109 cows were exported from NI for direct slaughter in ROI plants.
Exports of prime cattle to GB for direct slaughter last week totalled 115 head with 69 cows also exported.
Early lastweek therewas a drop in the prices being quoted by the plants for U-3 grade prime cattle to 360-362p/kg, 8-10p/kg less than the previous week. Despite this fall in base quotes the average price paid for U-3 steers last week was 377.6p/kg. Assuming that all U-3 steers qualified for the 8p/kg bonus, which is unlikely, the price paid was still 7.6p/kg higher than the highest quote (362p/kg) would suggest.
The averageU-3 heifer price last week was 378.4p/kg. Prices in GB have come under pressure over the past number of weeks but the prices being paid for prime cattle still remain well above NI prices.
The average steer price in GB last week was 390.4p/kg, back5.1p/kg on the previous week while the average heifer prices were back 6.2p/kg to 387.2p/kg. Average prices recorded a decline in all of the GB regions for steers, heifers and young bulls last week with reports of retail sales struggling with the continuing warm weather.
There are however reports of cattle supplies remaining tight across GB with strong demand for quality assured product.
Meanwhile prices continued to come under pressure in ROI last week with the R3 steer price back the equivalent of 4.6p/kg to 348.9p/kg while the R3 heifer price was back 2.7p/kg to 361.2p/kg. However the beef trade has reportedly steadied in ROI this week with ideal grazing conditions and good grass growth taking the pressure off producers to sell stock with reduced supplies reported as a result.
This Week's Marts
Finished first quality steers sold to an average of 210p/kg liveweight in the marts this week with second quality selling to an average of 185p/kg. The trade forfinished first quality heiferswas back on last week to 206p/kg (-7p/kg) while the trade for second quality heifers showed an improvement to 180p/kg (+10p/kg).
A general improvement in the trade for store cattle saw first quality bullocks up to 400kg sell from 202-225p/kg (avg213p/kg) compared to 191-234p/kg (avg208p/kg) last week. First quality bullocks over 500kg sold to an average of 207p/kg this week with second quality steers in the same weight range selling to an average of 183p/kg. Heifers up to 450kg sold to 214p/kg for first quality and 188p/kg for second quality.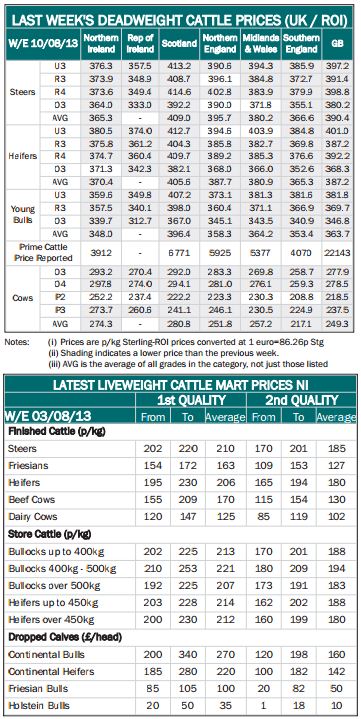 TheCattleSite News Desk