Heavy Placements and Slow Marketings Could Spell Trouble Ahead
US - Slow paced marketings and greater supplies could mean bad news unless the demand picture improves, according to a Mississippi State Professor.
USDA's National Agricultural Statistics Service released their monthly Cattle on Feed report this Friday (July 19), John Michael Riley, Assistant Extension Professor, Department of Agricultural Economics, Mississippi State University.
The report revealed that 10.368 million head of cattle are in feedlots with a capacity of 1,000 head or more on July 1, 2013. The inventory of cattle on feed was a decrease of 3.2 per cent from July 1, 2012, but a slight increase of 1.1 per cent from the five-year average from 2008 to 2012.
Analysts were expecting a drop of 3.0 per cent from 2012's inventory, so the reported number is in-line with those expectations and well within the range of expectations.
---
*


"When examining the placements by weight group, it is readily apparent that heavy weight placements far outpaced lightweight cattle going into feedlots."
---
The wild card lately has been placements. Cattle placed into 1,000+ head capacity feedlots totaled 1.587 million head during June, down 4.6 per cent from one year ago but up 0.5 per cent when compared to the average from 2008 to 2012.
Analysts were calling for the number of placements to be slightly smaller, at 1.579 million head, but their range for placement expectations was rather wide (as is typically the case for placements and especially with recent projections).
When examining the placements by weight group, it is readily apparent that heavy weight placements far outpaced lightweight cattle going into feedlots. The former (cattle under 700 pounds) were down a collective 29.9 per cent , while the latter (cattle 700 pounds and higher) were up 17.6 per cent .
In fact Colorado was the only state (with a reported breakout by weight group) to register an increase in cattle placed weighing less than 600 pounds – likely a result of drought conditions in the state.
Placements of cattle between 700 and 799 pounds were lower across all states/regions excluding Texas whose cattle in this group increased from 75,000 head to 135,000. While 135,000 is no small number, it is important to note that their placements of cattle under 600 pounds is nearly as much at 125,000 head.
Still, nationally 39.4 per cent of cattle placed weighed 800 pounds or more. This indicates that the near term number of market ready cattle will remain elevated.
It was expected that marketings would dip to a record low of 1.860 million head during June, but the actual reported number exceeded those projections; however they still come in at a record low.
Marketings during June registered 1.895 million head, down 3.6 per cent from June 2012 and 5.4 per cent lower than the five-year average. The number is lower than the previous low-water mark set just last year for the month of June at 1.965 million head.
When considered together, the slow pace of marketings coupled with the increase in current supplies of market ready cattle (exacerbated by the heavy placements in June) could spell trouble for feeders in the months ahead.
There is no doubt that fed cattle supplies are moving lower. The recent USDA World Agricultural Supply and Demand report indicated that second quarter 2013 supplies were less than expected but raised third and fourth quarter supplies.
To be specific, 2013 beef supplies are currently estimated to be 2.2 per cent lower than 2012 supplies and 2014 are projected to be 4.9 per cent lower than 2013. Even so, the market outlook continues to hinge on demand, which appears to be a case of "glass half empty" at the moment given the slow place of fed cattle marketings.
The Markets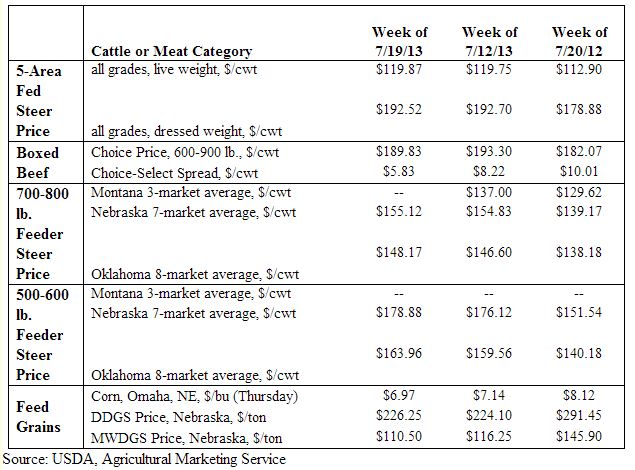 The five-area cash price ended the week mixed with live cattle trading at $119.87/cwt., up a few pennies from the previous week, while dressed sales came in at $192.52/cwt., down $0.18. Wholesale boxed beef prices continued to slide lower.
Choice carcasses finished the week $3.47/cwt. lower at $189.83. Select finished at $183.99/cwt, down $1.09. Intense heat in major metropolitan areas on the East Coast and across the Midwest led to concerns about the number of grills being fired up.
In Oklahoma, feeder steers were $1.57/cwt. higher and steer calves were $4.40/cwt. higher. Corn was lower this week while distiller's grains were mixed.
TheCattleSite News Desk