Research Shows Soil Phosphorus Levels in Balance
CANADA - Research conducted on behalf of the Manitoba Livestock Manure Management Initiative shows, in the majority of Manitoba's rural municipalities, levels of phosphorus in the soil are in balance with the rate of removal by crops, writes Bruce Cochrane.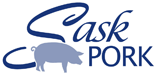 Farm-Scape is sponsored by
Manitoba Pork Council and Sask Pork
FarmScape is a
Wonderworks Canada
production and is distributed courtesy of Manitoba Pork Council
and Sask Pork.
Researchers with the University of Manitoba and Manitoba Agriculture Food and Rural Initiatives in partnership with the Manitoba Livestock Manure Management Initiative have completed a project aimed at "Estimating Soil Phosphorus Budgets for Rural Municipalities in Manitoba."
The intent was to provide phosphorus budget estimates for each RM by updating the existing phosphorus budget model using 2011 Statistics Canada data for cattle and pigs.
MLMMI executive director John Carney explains, scientists looked at all of the sources of phosphorus, livestock manure, synthetic fertilizer, even the phosphorus that's in seeds that are planted to grow a crop then at the use of phosphorus by those crops to come up with a phosphorus balance for 78 rural municipalities.
John Carney-Manitoba Livestock Manure Management Initiative
The good new is that in most regional municipalities phosphorus is in balance.
In 15 regional municipalities, and these would be mostly in the northern half of agro-Manitoba, we in fact have a phosphorus deficit.
What that means is that the crops are removing more phosphorus from the soil than we're replacing with either synthetic fertilizer or manure so, in effect, we're mining phosphorus.
There are only nine municipalities that have a surplus of phosphorus and in seven of those nine we could get into balance if we replace synthetic fertilizer with available manure.
So there's only two municipalities of the 78 that have a significant phosphorus surplus due to livestock alone.
Mr Carney suggests the information will be useful to government for future land use planning and in terms of general awareness of agriculture some people will be surprised to learn that overall Manitoba has a phosphorus deficit.
TheCattleSite News Desk