High Tech Lasers - A New Development in Measuring Livestock Emissions
UK - High-Tech Lasers that have widespread use in the engineering world may soon be utilised by the Agricultural Industry to measure greenhouse gas emissions from livestock, Dr Mizeck Chagunda told the Greenhouse Gas & Animal Agricultural Conference in Dublin.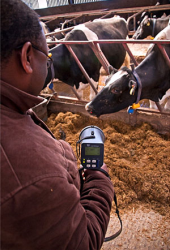 The laser methane detector is a hand-held portable unit that can be pointed at livestock to record their methane output. This device is widely used in the environmental engineering industry to detect leaks from pipe-lines and landfill sites. However, it's now in the frame to measure the amount of methane cattle produce, following work at the SRUC (Scotland's Rural College).
Dr Chagunda said: "If you look at national inventories of greenhouse gas emissions in a lot of production systems they are either based on small numbers of animals or they are based on a complicated estimation process which cannot access all the required data.
"This means the estimates have a lot of uncertainty associated with them. The LMD method will allow us to collect data from large numbers of animals without disturbing their normal activities."
Laser methane detector_170_250The work carried out at SRUC, together with collaborators, has found the method is just as effective as respiratory chambers. While these chambers are believed to produce the most accurate results, they are costly to run, and animals have to been brought to the facility and so only small numbers are tested each time.
Researchers believe measuring emissions in the animal's natural environment is cheaper and could be just as effective. The downside is that the process is time-consuming, as each cow must individually measured by the researcher. However, the team plan to look into ways of improving the technique.
Dr Chagunda added: "Despite the challenges associated with the use of the LMD, the technique has great potential as an alternative method in measuring livestock methane production."
TheCattleSite News Desk