LMC: Base Quotes at 380p/kg for Steers and Heifers
UK - Quotes from the plants for U-3 grade prime cattle this week were 378-382 p/kg with the majority of plants quoting a base price of 380p/kg for both steers and heifers, write market analysts at the Livestock and Meat Commission Northern Ireland.
Deadweight Cattle Trade
Some plants however are quoting 376-378p/kg for steers and heifers on Monday.
The8p/kg bonus continues to be available for steers and heifers that kill out in spec. Quotes for first quality cows have remained fairly steady, ranging from 290-310p/kg across the plants. With the improved weather over the past few weeks the processors have reported some difficulties in sourcing cattle with producers busy with other farm work.
The prime kill last week was back 606 head on the previous week at 5,852 head. This represents a reduction of nine per cent week on week. Imports of prime cattle from ROI for direct slaughter
totalled 402 head last week, back 57 head on the previous week.
Meanwhile, exports of prime cattle to GB for direct slaughter totalled 126 head. The cow kill in NI last week remained similar to the previous week with 1,386 head slaughtered but markedly behind the corresponding week in 2012 when the kill was 1,620 head. A total of 101 cows were imported from GB and ROI for direct slaughter in NI plants. Meanwhile 140 cows were exported to ROI for direct slaughter with 105 exported for direct slaughter in GB plants.
The average steer and heifer prices in NI last week were within 1p/kg of the previous week at 381.4p/kg and 384.9p/kg respectively. The differential between the NI R3 steer price and the GBR3 steer price last week was 13.3p/kg while for R3 heifers the differential was 7.7p/kg.
Meanwhile the average young bull price in NI last week was up by 3.3p/kg to 362.4p/kg with the price paid for O3 grading young bulls up 5p/kg to 360.1p/kg.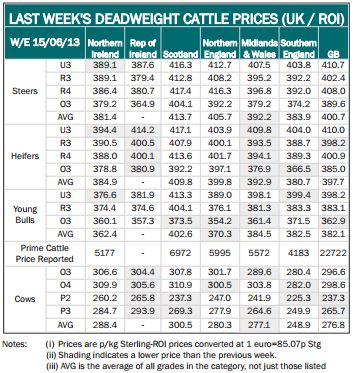 Liveweight
In GB last week average steer and heifer prices recorded an improvement after small declines in the average prices paid during the preceding two weeks. Average steer prices in GB last week were up 1.7p/kg to 400.7p/kg while heifer prices were up half a penny to 397.7p/kg.
Average steer prices were up by 2-3p/kg across all GB regions with the exception of the Midlands where prices were back in the region of1p/kg. Average heifer prices were also up in all regions with the exception of the Midlands where the average price was back 2.3p/kg to 392.9p/kg.
The average young bull price in GB was up 3p/kg last week with strong increases in Scotland and Southern England of 7p/kg and 5.7p/kg respectively.
The R3 steer price in ROI last week was up slightly to the equivalent of 379.4p/kg while the equivalent R3 heifer price was unchanged at 400.5p/kg. TheU3 heifer price in ROI last week was back by 2.7p/kg to 414.2p/kg but remains almost 20p/kg higher than the equivalent NI price. Reported young bull prices in ROI were up in the region of 1p/kg on the previous week.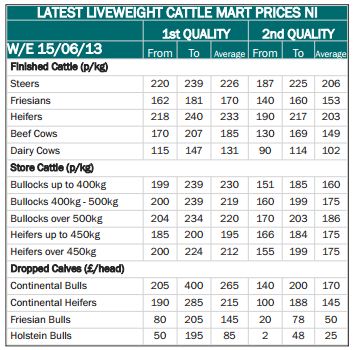 TheCattleSite News Desk