LMC: Supplies Stay High as Prices Fall Slightly
UK - Prices across Great Britain were pegged back this week, apart from quotes in Scotland which lifted to 411.7p/kg as plants saw steady supply.
Deadweight Cattle Trade
Quotes from the plants for U-3 grade prime cattle this week were 378-380p/kg with quotes for cows in the range of 290-310p/kg. The plants have reported steady supplies of both prime cattle and cows to meet demand.
Similar quotes are expected for early next week. Prime cattle slaughterings last week totalled 6,458 head, a reduction of 264 head on the previous week but well ahead of the 5,814 head killed during the same week in 2012.
Prime cattle slaughterings for the year to date are running four per cent ahead of the corresponding period in 2012. A total of 460 prime cattle were imported for direct slaughter from ROI last week, accounting for seven per cent of the total prime kill.
A total of 64 cows were also imported for direct slaughter. Meanwhile 128 cows were exported from NI to ROI for direct slaughter taking the total for the year to date to 4,182 head.
A total of 315 cattle were exported to GB for direct slaughter last week taking the total for the date to 6,629 head. In the same period in 2012 a total of 2,163 head were exported to GB for direct slaughter.
Average steer and heifer prices in NI last week were up in the region of p/kg to 380.4p/kg and 384.4p/kg respectively. The strongest price increase was for R3 steers, up 3.3p/kg to388.3p/kg.
The R3 heifer price was almost unchanged at 389.1p/kg. The average young bull price in NI last week was up 1.3p/kg on the previous week at 359.1p/kg with the U3 young bull price up 2.9p/kg to 379.3p/kg.
In GB last week average steer prices were back 1.2p/kg to 399.0p/kg with prices across the regions generally back by 2-4p/kg. One exception to this was Scotland where average steer prices increased by almost 1p/kg to 411.7p/kg.
Meanwhile average heifer prices in GB were back marginally to 397.1p/kg with average prices generally back by 1-2 p/kg across the regions. One exception to this was in the Midlands where average prices were up by 1.7p/kg to 395.2p/kg.
The R3 steer price in ROI last week was the equivalent of 378.6p/kg, up marginally from the previous week. Meanwhile the R3 heifer price has crossed the £4/kg mark with an equivalent price of 400.7p/kg, 11.6p/kg higher than the R3 heifer price in NI and 6.4p/kg behind the Scottish R3 heifer price.
The U3 heifer price in ROI last week was the equivalent of 3p/kg higher than the Scottish U3 heifer price.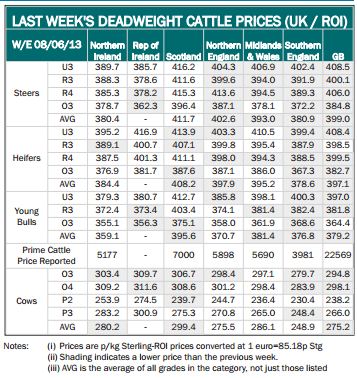 This weeks' marts
Finished first quality steers sold to an average of 218p/kg this week compared to an average of 221p/kg last week. The trade for second quality finished steers was the same as last week with an
average price of 200p/kg.
Finished first quality heifers sold to an average of 227p/kg (+7p/kg) this week with second quality selling to an average of 196p/kg (+1p/kg).
The trade for good quality cull cows remains strong with a top reported price of 229p/kg for a continental bred cow, with an average price for first quality beef bred cows of 188p/kg. First quality dairy type cows sold from 120-156p/kg (av 130p/kg).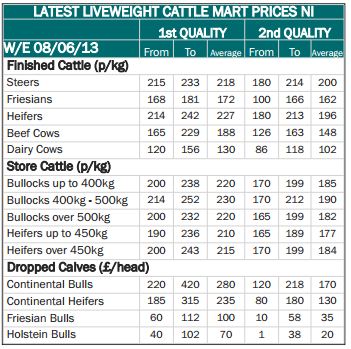 TheCattleSite News Desk