LMC: Weekly Report Confirms Buoyant Market
UK - Last week top quality steers fetched liveweight values of 215p/kg with second quality around 20p below, while U3 heifers saw a 3.1 p/kg rise, according to the Livestock and Meat Commission Northern Ireland.
Deadweight Cattle Trade
Quotes from the plants last week for U-3 grade prime cattle were 364-368p/kg with similar quotes expected for early this week. The 8p/kg bonus continues to be available for in spec steers and heifers.
Quotes for cows from the plants last week ranged from 275- 300p/kg. The prime kill in NI the previous week totalled 6,267 head, an increase of nine per cent on the 5,742 killed the week before. In the same week last year the prime kill was 6,347 head. The cow kill last week was similar to previous weeks at 1,434 head with the cow kill for the year to date running 12 per cent ahead of the corresponding period in 2012.
The trade for steers and heifers remained strong in NI last week with average steer prices increasing by 1p/kg to 364.0p/kg and average heifer prices increasing by 4.2p/kg to 370.5p/kg. The tight supply of cattle has put producers in a strong position to negotiate higher prices.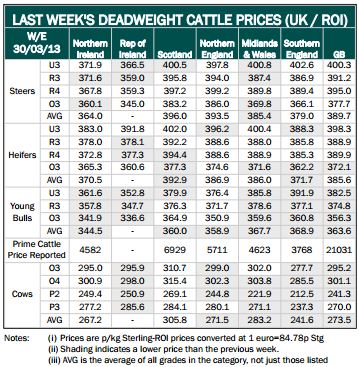 The U3 heifer price increased by 3.1p/kg last week to 383.0p/kg. With a top quote from the plants of 374p/kg last week (366p/kg +8p/kg bonus) it is obvious that markedly higher prices are available than quotes from the plants would suggest.
In GB last week the average steer price increased by 2.5p/kg to 389.7p/kg while the average heifer price increased by just over 1p/kg to 385.6p/kg. The R3 steer and heifer prices in GB last week increased in the region of 1p/kg to 391.2p/kg and 388.9p/kg respectively.
The trade across the individual GB regions for steers and heifers last week was quite mixed. Reported prices in Scotland were almost unchanged from the previous week while steer and heifer prices in Northern England were up 6p/kg and 3.8p/kg respectively.
Average steer prices in the Midlands were back by 1.3p/kg to 385.4p/kg while heifer prices in the region were up by a similar margin to 386p/kg. Meanwhile the trade for young bulls was back on the previous week across all the GB regions with the average price back 2.5p/kg to 363.6p/kg.
The biggest decline was recorded in the Midlands where the average price was back 5.7p/kg to 367.7p/kg. In NI last week the young bull price was back 5.9p/kg to 344.5p/kg.
The trade in ROI for finished cattle improved in euro terms for all reported grades but due to slight weakening in the euro against sterling the prices paid in sterling terms were relatively unchanged. The R3 heifer price last week was the equivalent of 378.1p/kg while the R3 steer price was 359.0p/kg.
The Week's Marts
Finished first quality steers sold to an average of 215p/kg this week across the marts with second quality selling to an average of 195p/kg. The trade for finished heifers was similar to last week with first quality selling from 210-238p/kg (av 219p/kg) and second quality selling from 185-209p/kg (av 197p/kg).
Store heifers up to 450kg sold to a top price of 205p/kg this week with an average of 197p/kg for first quality animals. Last week heifers in the same weight range sold to a top price of 238p/kg with an average of 213p/kg for first quality animals.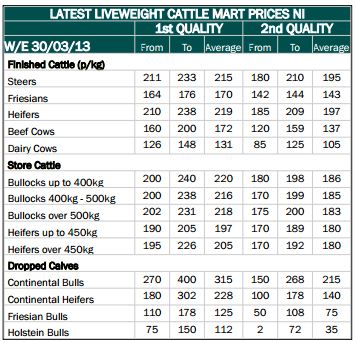 TheCattleSite News Desk