LMC: Plants Paying 340p/kg as Supplies Tighten
UK - Tightening supplies led to prices of 340p/kg in Northern Ireland last week with the euro making Republic of Ireland prices strong against Northern Ireland, reports Livestock and Meat Commission.
Deadweight Cattle Trade
Base quotes from the plants this week for U-3 grade prime cattle increased to 336-340p/kg with reports of deals being made at higher prices as prime cattle supplies have tightened.
The majority of plants are quoting 340p/kg for both steers and heifers with similar quotes expected for early next week. Quotes for first quality cows ranged from 265-285p/kg. Throughput of prime cattle last week was similar to previous weeks at 7,050 head.
A total of 391 prime cattle were imported from ROI last week for direct slaughter bringing total imports for the year to date to 2,661 head. This is a fourteen percent increase on the same period last year when 2,341 prime cattle were imported for direct slaughter.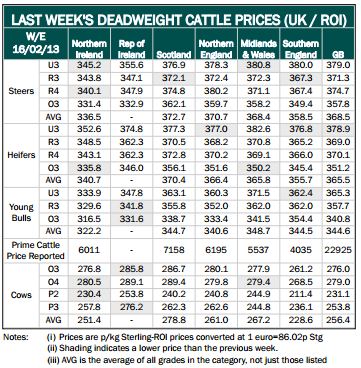 Meanwhile exports of cows to ROI for direct slaughter have increased in recent weeks with 1,377 head exported for the year to date.
Much of this increase in exports to ROI may be due to the increased penalties for non FQ assured stock being implemented in NI plants The average steer price in NI last week was 336.5p/kg, up almost a penny on the previous week while the average heifer price was up slightly to 340.7p/kg.
Meanwhile in GB average steer and heifer prices were up in the region of 2p/kg to 368.5p/kg and 365.5p/kg respectively. Average steer and heifer prices in Scotland were relatively unchanged on
the previous week at 372.7p/kg and 370.4p/kg respectively with an
improved trade reported in Northern England and the Midlands.
Steer prices in Northern England were up 3p/kg to 370.7p/kg while heifer prices were up 3.6p/kg to 366.4p/kg. In the Midlands steer prices were up 2.5p/kg to 368.4p/kg while heifer prices were up 2p/kg to 365.8p/kg.
Young bull prices showed an improvement in NI last week, increasing by 3p/kg to 322.2p/kg. A similar trend can be observed across GB with he average young bull price up 4.6p/kg to 344.6p/kg. The biggest increase was recorded in Northern England where average prices increased by 6.5p/kg to 340.6p/kg.
The continued strong value of the euro against sterling has held prime cattle prices in ROI above NI prices for all reported grades. R3 steer and heifer prices in ROI both increased by 1.9p/kg to 347.1p/kg and 362.3p/kg respectively.
Liveweight Marts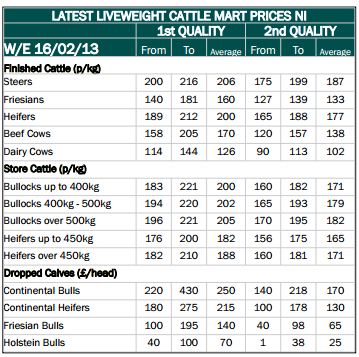 The trade for finished cattle has remained strong this week with finished first quality steers selling to an average of 206p/kg (+7p/kg) with finished first quality heifers selling to an average of 200p/kg (+1p/kg). First quality beef cows were similar to previous weeks at 170p/kg with plainer type animals selling to 138p/kg.
A firm trade for good quality store cattle saw first quality bullocks up to 400kg sell to an average of 200p/kg (+11p/kg) with plainer animals in the same weight range a similar trade to last week at 171p/kg. First quality bullocks over 500kg sold to 205p/kg (+10p/kg) with second quality selling animals selling to 182p/kg (+9p/kg).
TheCattleSite News Desk