Incentive to Add Native Plants to Grazing Mix
AUSTRALIA - Native Australian shrubs give mixed farms an economic and environmental advantage and now there is financial support to establish perennial plants to demonstrate these advantages in South Australia's Upper South East.
Graziers in the Coorong-Tatiara region of South Australia can apply for funding – including assistance to demonstrate the planting and management of fodder shrubs such as saltbush – under a Federal Government Caring for our Country program.
The program is being managed by the Coorong and Tatiara Local Action Plan (CTLAP).
Dr Jason Emms, a senior scientist with the South Australian Research and Development Institute (SARDI), is providing advice on how to go about introducing potential alternative fodder shrub species into the farm system.
Dr Emms said there are a wide range of positive reasons to plant fodder shrubs in the Coorong and Tatiara districts.
"Various saltbushes, emu bush and other alternative fodder shrub species can help fill the autumn feed gap, better use marginal land and create a feed reserve during drought conditions," Dr Emms said.
"They help to reduce groundwater recharge and the risk of erosion and offer wind protection for stock.
"There also is a growing awareness about the other attributes of using Australian perennial plants in grazing systems – including their potential to raise whole-farm profits and the efficiency of production, and reduce greenhouse gas emissions."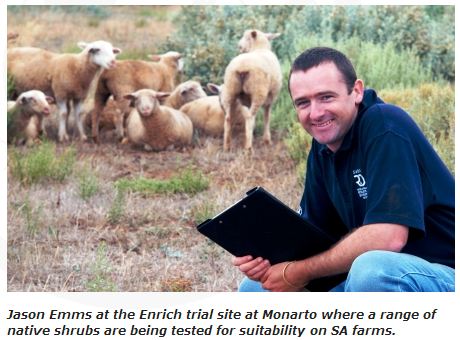 Agriculture Minister Gail Gago says that using native species could potentially lift farm profits and demonstrates the impressive capabilities of South Australian scientists.
"Tapping into an available resource such as native shrubs to boost farm profits and in turn the local economy shows just how innovative our scientists are," Ms Gago said.
Dr Emms is working on the Future Farm Industries CRC "Enrich" program, which is identifying a range of native shrubs best suited to shrub-based grazing systems across Australia.
Adding native perennial forage shrubs to the menu in mixed livestock and cropping systems can lift profits by up to 20 per cent, while contributing to sustainable land management across southern Australia, the Enrich research has found.
Economic modelling through the Enrich project, which commenced in 2005, found planting 10 per centof a typical WA central wheatbelt property to native forage shrubs could lift whole farm profits by 15–20 per cent, from about $102/ha to $117/ha.