Producers Advised To Consider Least-Cost Rations
CANADA - The Animal Nutrition Association of Canada says livestock producers will need to pay close attention to the cost of feed ingredients this winter and adjust rations accordingly, writes Bruce Cochrane.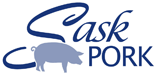 Farm-Scape is sponsored by
Manitoba Pork Council and Sask Pork
FarmScape is a
Wonderworks Canada
production and is distributed courtesy of Manitoba Pork Council
and Sask Pork.
With an estimated eight to 12 million acres of cropland left unseeded across the prairies this year due to abnormally wet weather, livestock producers are being advised to anticipate shortages of certain feed ingredients, including canola, wheat and barley.

The main competition for feed grains, if the quality is high enough, is the human food market while the ethanol industry will be competing for a lot of the off-grade feedstock.

Herb Schultz, the Animal Nutrition Association of Canada's Manitoba operations manager, says it is still too soon to estimate precisely how much crop will be harvested this year or the quality of that crop but livestock feeders will need to anticipate reduced availability of certain ingredients and adjust their ration formulations accordingly.
Herb Schultz – Animal Nutrition Association of Canada:
In formulations. I'm not sure people are aware, it's called the least cost formula so you look at the price of your ingredients and feed grains are going to be their biggest issue.

In other words, if something is too expensive, you have to kick it out and look for something cheaper.

If you can't get barley or feed wheat, then you have to look for something else like distillers dried grains or corn from the US.

Distillers dried grains and corn from the US has got a sort of a double consideration.

One is if they're available, that's OK but then we have to look back at the Canadian dollar value vis a vie the US.

At parity, that's pretty competitive.

At 94 cents, 93 cents you're starting look at that pretty hard and say what are you paying to get that stuff in?

Mr Schultz says it is difficult for livestock producers to position themselves right now.

He suggests they will need to assess the situation as the fall harvest gets underway and the crops start to come in.
TheCattleSite News Desk