Feed Barley Supplies Likely to be Tight this Winter
CANADA - Due to an expected short supply Canadian livestock producers are being advised to replace barley in rations with other feed grains this winter where ever possible, writes Bruce Cochrane.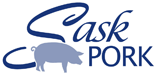 Farm-Scape is sponsored by
Manitoba Pork Council and Sask Pork
FarmScape is a
Wonderworks Canada
production and is distributed courtesy of Manitoba Pork Council
and Sask Pork.
This year's growing season has been characterized by abnormally cold temperatures and variable moisture conditions across the prairies.

Informa Economics vice-president Dave Reimann says many traders are assuming an early frost or wet harvest conditions will result in much of the cereal crop being downgrade to feed but, even with that, he doubts there's been enough barley planted this year to meet demand.
Dave Reimann-Informa Economics
The one common theme that we're seeing is that livestock herds of virtually all types are being reduced these days across North America and really even in other parts of the world.

Really the returns for livestock, whether it's cattle, hogs, poultry, you name it, they're in rough shape this year and we're seeing folks trimming back on their operations.

That's cutting into overall demand for feed grains and, particularly here in Canada, I think we've probably seen even a bit more of severe a reduction than we have in the US so far.

We're anticipating lower demand across the board but again it will be interesting to see how this plays out because we expect that barley as an example will be in tighter supply and so it will trade at somewhat more of a premium over corm that it would normally or at least a higher value, again probably higher against feed wheat and such in order to ration some of that demand out and push it into those other feed grains.

You'll probably see less impact on something like feed wheat as an example because of a greater supply and reduced numbers.

We could see quite a shift in the way livestock producers actually put their rations together this year and I think you will see, because of that what looks to be an ample supply of US corn, more corn moving up into Canada and again probably greater utilization of DDGS wherever possible.

Mr Reimann notes the recent rally in energy markets has probably stabilized the ethanol sector to some degree and, if crude oil continues to rally, we'll see more corn demand but we're getting toward the of driving season so that's unlikely to be a key factor.
TheCattleSite News Desk