Expansion of Animal Clinic and Lab Nears Completion
CANADA - The Western College of Veterinary Medicine expects to complete an approximately six million dollar upgrade of its Diagnostics Laboratory and Large Animal Clinic within the next month to six weeks, writes Bruce Cochrane.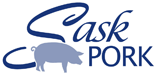 Farm-Scape is sponsored by
Manitoba Pork Council and Sask Pork
FarmScape is a
Wonderworks Canada
production and is distributed courtesy of Manitoba Pork Council
and Sask Pork.
The Western College of Veterinary Medicine was established in 1964 to provide veterinary training in western Canada.

In addition to providing undergraduate and graduate student training, the diagnostics laboratory serves as the provincial veterinary diagnostics lab for Saskatchewan while the large animal clinic, which consists of a small animal clinic, a large animal clinic and a field service clinic, supports clinical research as well as advance veterinary training.

College Dean Dr. Charles Rhodes notes the upgrade of the Diagnostics Lab and the Large Animal Clinic is part of a much larger modernization.
Dr. Charles Rhodes-Western College of Veterinary Medicine
These upgrades are part of an overall program that we started about five years ago.

It is a very large and a complex program because we're doing upgrades and expansions to various parts of our college building and yet we have to continue to provide clinical services, teaching and research while this is on-going so that makes it really challenging.

We couldn't essentially do everything at once and it has been staged over time.

These two portions were phased in to occur at this particular time and that's why that's happening.

They are really near the end of that overall program, so we are approaching getting that all done.

Dr. Rhodes expects the renovations to the Diagnostics Laboratory and Large Animal Clinic to be complete within about six weeks.

He notes initial planning for the final stage of the expansion, the renovation of the old part of the diagnostics lab, is complete but funding still needs to be identified before the final drawings and the tendering process can move forward.
TheCattleSite News Desk