Low Stress Livestock Handling Video Launched
CANADA - The Farm Animal Council of Saskatchewan has launched a new 30 video on low stress livestock handling techniques, writes Bruce Cochrane.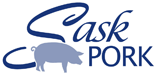 Farm-Scape is sponsored by
Manitoba Pork Council and Sask Pork
FarmScape is a
Wonderworks Canada
production and is distributed courtesy of Manitoba Pork Council
and Sask Pork.
The Farm Animal Council of Saskatchewan, in collaboration with Intervet Schering-Plough Animal Health and Advancing Canadian Agriculture and Agri-Food, is making available a new DVD for use by those involved with handling livestock.

The video recorded during Low Stress Handling Technique Workshops facilitated by Tina Williams and her husband Richard McConnell was produced in Saskatchewan.

Farm Animal Council executive director Adele Buettner says it is easy to understand and demonstrates excellent handling techniques.
Adele Buettner-Farm Animal Council of Saskatchewan
We focus on three main areas on this video, Zones of Influence, Using the 'T' to the Gate and Using Livestock's Natural Instincts.

The zone of influence segment presents diagrams that identify the flight and pressure zones used to handle animals as well as an actual example of what to do and what not to do when you're working with them.

Richard and Tina demonstrate how to respond positively by reading the animals and explain the difference between the taming and training of livestock.

Using the 'T' to the gate shows how to avoid anticipated problems, the importance of walking in a straight line and ensuring that you are constantly within the animals line of vision among several other practical techniques that help animals to remain calm.

Using livestock's natural instincts demonstrates the pressure and release techniques to improve loading, sorting and moving of animals.

Those three topics were suggested to us by past attendees of our low stress handling seminars and conferences as the three top areas of interest for producers interested in learning more about the low stress handling in those areas.

The video can be accessed through the Saskatchewan Farm Animal Council web site and it will be distributed by Intervet Schering-Plough during its regional producer meetings.
TheCattleSite News Desk