Limousin Cattle: Identifying and Improving Carcase Traits in Limousin Cattle
A call has gone out to owners of commercial Limousin sires to partake in a ground breaking four year study looking at how genetics influences carcase traits and can be turned into more of an exact science.
In 2011, the British Limousin Cattle Society (BLCS) joined forces with ABP (Anglo Beef Processors) and SRUC (Scotland's Rural College (formerly SAC)) to embark on a ground-breaking four-year project exploring the use of the latest genetic and imaging technologies to improve carcase traits in Limousin cattle.
It is a £1.5 million initiative, funded by the Government's Technology Strategy Board (TSB), writes the BLCS.
The aim of the project is to understand the influence of genetics on carcase traits, to establish reliable methods of recording data and produce breeding values that identify breeding animals with superior genetic merit for up to nine new carcase traits.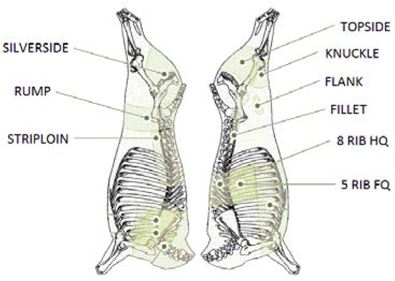 To achieve this Video Imaging Analysis (VIA) results of carcases are combined with genomic information from DNA, says the BLCS.
This builds up a 'SNP Key' for the breed, which producers can compare their live animals' DNA against and identify their breeding merit for the nine new traits.
This is the first use of this exciting new technology in the beef sector in the UK and means breeding merit for a range of carcase cuts can be identified at a very early stage in an animal's life, with a far greater degree of accuracy than at present.
2014 – Progress to Date
Heritabilities have been estimated for the carcase traits for Limousin. These have been found to be moderate to strong, which means genetic selection is possible and will influence performance.
The first Limousin EBVs have been produced for the carcase traits. As more data accumulates these will be refined and published in 2015.
Progress Yielding Exciting Results

A study of the data collected by the project so far examined progeny results from 30 different Limousin sires. The difference in retail value between the best and the worst sire was £463 per calf. The new breeding values that result from this project will identify the animals that can produce this added value, which has clear benefit for all sectors in the supply chain.
To view this information in greater detail in a series of short factsheets, click here.
What's Next?
The larger part of 2014 is being devoted to obtaining DNA samples from live animals to 'cross reference' with the slaughter data as it accumulates and build the SNP key. Some animals we require samples from have previously been sold to commercial producers and we would like to know their whereabouts.
We also require to purchase semen from a range of AI bulls for higher-level sequencing analysis. The list can be viewed here. If you have straws to sell (or donate), please get in touch.
All contributing breeders will be kept informed of the project's progress as it nears completion in 2015 and all sampled animals will be amongst the first in the UK to receive genomic breeding values for the new carcase traits.
Beyond DNA sampling, throughout the course of the year, more VIA machines are to be installed in abattoirs across the UK to increase the volume of data used to create the SNP key.
As we progress in to 2015, it is planned that the nine new EBVs will be integrated in to the Limousin evaluation for publication, with the first genomic breeding values (GEBVs) – those augmented by the addition of DNA information – becoming available towards the latter part of 2015. At this point, Limousin breeders will be able to genotype their animals at birth and receive the GEBV for each of the nine VIA carcase traits. Identifying the high performers so early in life with greater degrees of accuracy than before will be incredibly valuable to breeders and commercial Limousin buyers when making their breeding and management decisions.
Further Reading
For more information on the Limousin carcase traits project, please click here.