Effect of Weaning on Body Condition Recovery and Calf Performance in Previously Nutritionally Restricted Cow-Calf Pairs
Kansas State University research has found that early weaning can help increase body condition in both two year old and mature cows.
The effect was less on two year olds which only recovered half as much condition in the same amount of time as mature cows when feeding both ages groups together.
This is the work of Sandy Johnson, Extension Reproductive Physiology Specialist at Kansas State University.
Her aim was to quantify performance differences in cattle that are weaned early and calves still nursing dams to evaluate productivity and costs.
The study used 36 first first-calf heifers and mature cows, previously nutritionally restricted, were early weaned or calves remained with cows during a 77-day re-feeding period.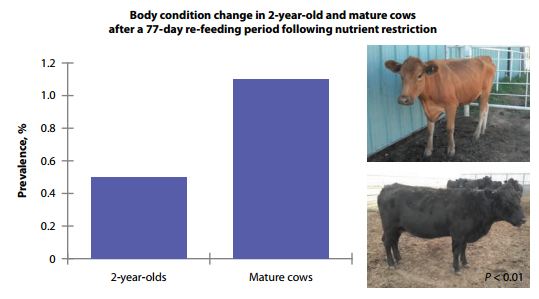 A common ration composed of ground CRP hay (70.2 per cent), wet distillers grain (28.3 per cent), and a mineral package (1.5 per cent), all dry matter basis, was delivered 3 times per day to both groups.
Daily intakes of cows were measured utilizing a digital GrowSafe System (GrowSafe, Alberta, Canada).
Body condition scores (1 = thin; 9 = very fat) and body weights of the all the cows were taken at day 0 and again at day 77.