Beef Outlook: Cow Slaughter Continues At Heavy Rate
Pasture conditions are generally good to excellent in most parts of North America. Exceptions are parts of western Canada, southwestern and southern Mexico, and the Upper Midwest, Mountain West, east Texas-Louisiana, and parts of the East Coast in the United States.

2009
Pasture conditions are generally good to excellent in most parts of North America. Exceptions are parts of western Canada, southwestern and southern Mexico, and the Upper Midwest, Mountain West, east Texas-Louisiana, and parts of the East Coast in the United States. Summer crops are generally in good shape, but are beginning to respond to some dryness in areas of the US South and Southeast. The July 6, 2010 Crop Progress report was the first "official" indication of any problems with the potential crop.

Despite generally adequate pasture conditions, federally inspected beef cow slaughter continues at a second-quarter pace not seen since 1996, when drought and then-record-high grain prices initiated the liquidation phase from the peak year of the cattle cycle that began in 1991. Commercial cow slaughter thus far this year has included greater numbers of Canadian cows than were in the slaughter mix at this point in 2009. In addition, the Cooperatives Working Together (CWT) group has recently announced a 10th round of buyouts.

The current round of CWT whole-herd buyout accepted bids for just over 34,442 cows, which are slated to go to market from mid-July through mid-August. A number of these cows likely would have been slaughtered as a result of normal culling operation. Thus, the buyout should not affect commercial cow slaughter or prices by much. Between July 1, 2006 and July 1, 2009, cow inventories declined by 2.4 per cent. The National Agricultural Statistics Service Cattle inventory report, to be released July 23, will provide information on further changes in midyear cow and heifer inventories for July 1, 2010. Also of interest in the July Cattle report will be the inventories of replacement heifers, which will have implications for changes in the national beef and dairy cow herds over the next year or so. Increases in replacement heifer inventories large enough to more than offset the current high levels of cow slaughter in 2010 could signal an end to the ongoing liquidation since the July 1 peak years, 2005 and 2006.

Cattle Feeding Margins Slip After 6 months in positive territory, cattle feeding margins have begun narrowing as feed prices have begun increasing modestly—in part due to reduced corn stocks and acreage estimates as reported in the July 30 Acreage and Grain Stocks reports. Also contributing to the narrowing of feeding margins are feeder cattle prices that have held above $110 per cwt despite weekly fed cattle prices that have declined to the $91-$94 range. The increase in May placements of feeder cattle in lots with 1,000- head-or-more capacity could generate some pressure on fed cattle and beef prices during the fourth quarter of 2010, especially if there was follow-through in higher year-over-year feeder cattle placements in June 2010, which will be known after the July 23 release of the Cattle on Feed report.

Five-day accumulated weighted moving-average dressed weights of steers and heifers for July 1 through July 12 have increased from their June lows (basis, Daily National Carlot Meat Report), but are 2 per cent and 1 per cent below year-earlier weights for the same period. Ordinarily, the lighter weights would indicate some marketing of calf-feds or of cattle just before or just as they reach their finish, resulting in slightly lower grading carcasees. However, the grading per cent breakdowns for the same 12-day period are 2 per cent higher year-over-year for Choice 600- to 900-pound carcasees, leaving the per centage of Select carcasees down. This apparent anomaly may be the result of more cattle marketing in Nebraska and Iowa compared with June 2009 (basis, June 2010 Cattle on Feed report) and fewer marketed cattle in Texas. This may indicate a slight shift in comparative advantage from Southern feedlots to Northern feedlots due to their proximity to ethanol production and the distillers' co-products available for feeding.

Weekly cutout values for Choice and Select beef have declined from their early to mid-May 2010 highs. While a major price increase through the remainder of the summer is unlikely, the recent strength in fed cattle prices will adversely affect packer margins. Prices could gain some support as Labor Day approaches and retail outlets gear up for any beef features planned for the final grilling holiday of the year. June retail Choice beef prices, at $4.49 per pound, increased by 3 cents per pound over May's price. While retail prices are within reach of the record of $4.53 observed in August 2008, higher prices for competing pork and poultry will dampen consumer enthusiasm for all meat and poultry.
Demand for US Beef Exports To Remain Strong Through 2010
Exports of US beef for 2010 are forecast at 2.09 billion pounds, a nearly 12- per cent increase from 2009. This figure also places US beef export levels at 83 per cent of pre-BSE levels in 2003. US beef exports through May were 26 per cent higher, year-over-year, with exports to Asian markets—namely Japan (+24 per cent), South Korea (+74 per cent), Taiwan (+54 per cent), and Hong Kong (+126 per cent) —contributing toward much of the forecast and year-over-year growth. The second and third quarters of this year are expected to show nearly 15-and 11- per cent growth above the same quarters last year, at 540 and 550 million pounds exported, respectively. The strengthening dollar is not expected to have a significant effect in terms of dampened demand for exported US product, given the growth in Asian markets and implications of supply constraints in markets of alternative beef suppliers. Constraints in Argentinian supply, for example, have caused a shift in Russian demand for beef to US supplies. Beef production in 2010 from Australia, a primary export competitor with the United States, particularly to Asian markets, will be the lowest since 2003.
Top 10 foreign markets for US beef and veal exports, through May 2009/10
Export volume, carcase wt.
(1,000 lbs)
Export volume, carcase wt. (1,000 lbs)
Jan-May
2009
Jan-May
2010
per cent
change
1 Mexico
214,367
197,861
-8
2 Canada
137,058
147,529
8
3 Japan
89,151
110,504
24
4 South Korea
53,498
92,985
74
5 Vietnam
75,119
75,033
0
6 China (Taiwan)
29,835
45,936
54
7 Russia
1,025
38,210
3628
8 Hong Kong
16,028
36,236
126
9 Egypt
6,879
22,980
234
10 Netherlands
8,367
16,491
97
World Total
680,472
859,140
26
Source: USDA, Economic Research Service, http://www.ers.usda.gov/data/meattrade/
Total US beef imports for 2010 are forecast at 2.5 billion pounds, a nearly 5- per cent decline from 2009. Close to the level of imports in 2008, this will be the lowest quantity of beef imported since 1997. Shipments from several key suppliers—namely Australia and New Zealand— are well below historical levels, with beef exports through May down 45 and 10 per cent year-over-year, respectively. Imports even from smaller markets in South America were lower yearover- year as well, including from Brazil (-38 per cent), Argentina (-40 per cent), and Uruguay (-46 per cent). Conversely, US beef imports from Canada were 12 per cent higher through May than 2009 levels. As the second and third quarters are expected to exhibit an increase in Canadian cattle imported for immediate slaughter, total product originating from Canada is helping to balance the shift in beef imports this year away from the Oceania and South American countries. Total beef imports through May were down 16 per cent; however, third- and fourth-quarter imports are forecast to be 6 and 10 per cent higher than the same quarters in 2009.
Higher Slaughter Cattle Imports from Canada Through Third Quarter
Total cattle imports through May were 11 per cent higher than year-earlier levels. Because of higher levels of imported slaughter cattle from Canada and feeders from Mexico, cattle imports for May were 60 per cent higher than May 2009. Imported cattle numbers normally decline during the summer months, when feeder and fed cattle supplies fluctuate seasonally, and then peak in the early spring (March) and fall (October-November). However, in May, imports of Canadian cattle greater than 700 lbs for immediate slaughter were 66 per cent above the 2009 level. According to AMS weekly reports, the numbers of slaughter cattle imported from Canada have been above historic levels through June. This trend should continue through the third quarter, as CanFax market reports for Alberta and Saskatchewan show marketings from feedlots trending upward due to higher numbers of placements earlier this spring. Canadian marketings.
Figure 1. US-Canada slaughter steer price differential (Nebraska, 65-80 per cent choice, vs. Alberta, mostly select 1-2)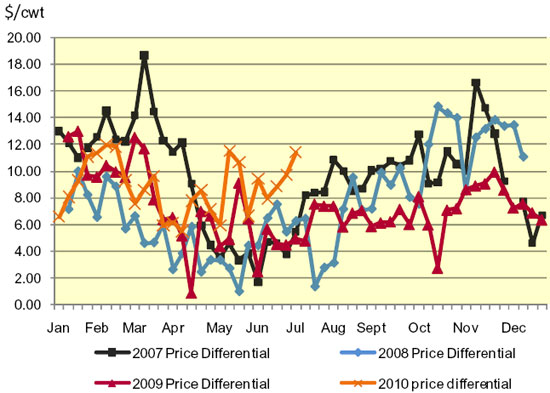 Source: USDA-AMS weekly reports compiled by ERS
Mexican cattle imports through May were 27 per cent higher, year-over-year, with imports for the month of May 54 per cent higher than last year. AMS weekly reports show Mexican feeder imports slowing slightly through June and into July. As forage conditions in Mexico begin to deteriorate seasonally, imports of Mexican feeders should begin an uptrend again in the fall.
August 2010