Beef Cow Inventory Down, Dairy Up
By Shane Ellis, Iowa State University Extension, Economics Department and published in Iowa Farm Outlook Newsletter. The US cattle inventory is now at 96.7 million head, down 0.3% from a year ago.

This January cattle report has shown a continued decline in the beef sector of the cattle industry while dairy cow numbers continue to grow. Beef cow numbers are down 1% from a year ago and dairy cow numbers are up 1%. Reduced heifer retention also indicates that the decline in beef cattle inventories will continue in the short-run. In Iowa, the change in cattle numbers was more dramatic. Beef cow numbers are down more than 5% from last year and heifer retention was down 9.4%. Table 1 contains a summary of the US cattle inventories as of January 1.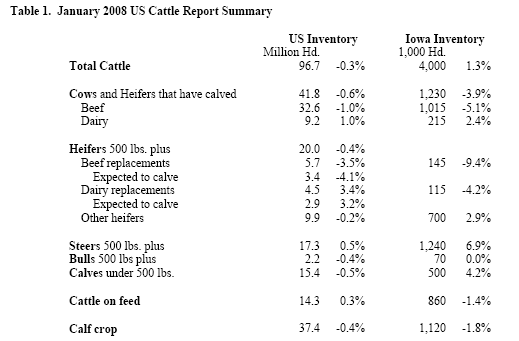 Beef number declines are the result of several factors. First, the declining profitability of cow-calf production has discouraged producers from increasing their cow herds. Despite calf and feeder cattle prices being the highest in recent history, the cost of production has also increased enough to collapse profits. Now with a second surge in corn prices and a dramatic increase in all feed and grain prices, feeder cattle prices have declined dramatically. Second, the availability of resources has also impacted beef producers' production decisions. Land for pasture grazing has become more scarce and expensive as ground is turned to crop production. If crop prices remain at their current levels it will become increasing difficult for cattle producers to compete without a dramatic increase in beef prices. This is especially true in Iowa where we have seen some of the most dramatic declines in cow numbers.

In the past strong fed cattle prices have added strength to feeder cattle prices, however fed price have been trending slightly lower. Many feeders are hoping to recover a little during the traditional Spring price rise. Figure 1 graphs the decline in feeder cattle prices in the past 24 months compared with fed cattle and corn prices.
Figure 1. Comparison of Price Trends, 2006-present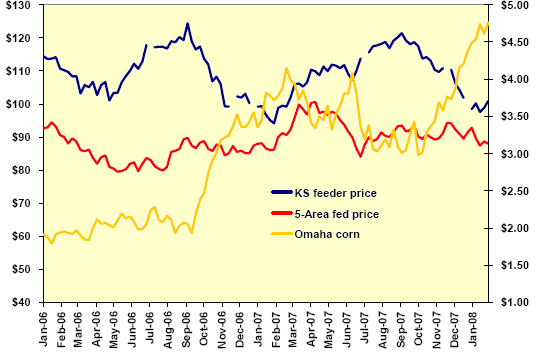 The dairy industry on the other hand continues to expand amid profitable milk prices. Prices have been sufficiently high to absorb the higher cost of corn and hay while still encouraging expansion. With the increase in dairy cows comes an increase in the supply of beef from dairy cattle.
February 2008