China is world's largest imported beef market in 2021
China has defended its newfound mantle as the world's largest imported beef market this year.
A strong economic rebound after initial COVID-19 disruption and a substantial meat shortage due to African Swine Fever (ASF) have bolstered China's beef imports over the last year, with this momentum continuing in recent months.
While China pork prices have declined considerably since the Lunar New Year, suggesting pork supplies have rebound, the sheer magnitude of sow herd liquidation and sporadic recurrences of ASF suggest this may be short-lived. Nevertheless, cooling pork prices have yet to drag beef prices down and beef imports have continued to expand.
Over the past decade, China has continued to open its beef market to an ever-growing list of suppliers – most of the beef heavyweights have enjoyed expanding trade into the market. Over the year-to-May period, China beef imports increased 18% year-on-year, with all top 10 suppliers (except Australia) recording double-digit growth.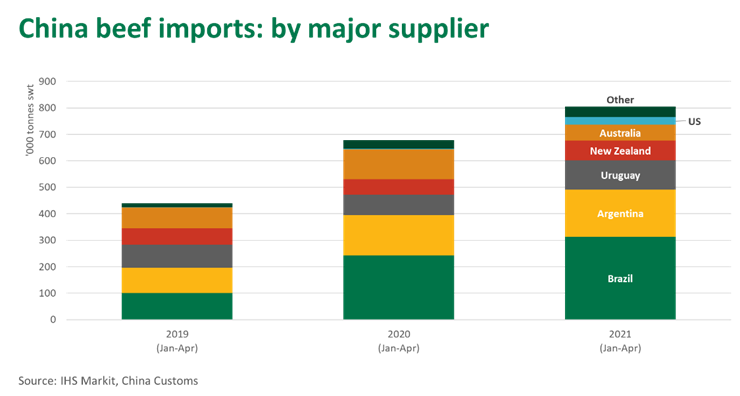 However, two mainstays of the market, Australia and Argentina, have recently experienced reduced access. Meanwhile the United States, a relative newcomer, has seen the Phase-One Agreement translate into a fast-growing beef trade. The beef products and market segments filled by all three suppliers are not entirely interchangeable, and availability from other exporters may soon become constrained.
Changes in market access
Australia: a range of technical issues resulted in the suspension of seven beef establishments in 2020 that are yet to be relisted. While cattle and beef supplies have been tight due to Australia's current herd rebuild, beef exports to China declined 42% year-on-year over the year-to-May period (compared to 18% for all other markets). The reduced trade has been heavily influenced by the suspension of establishments.
Argentina: in an attempt to check rising domestic beef prices, in mid-May Argentina's Peronist government announced a 30-day ban on beef exports to all markets other than those managed by tariff rate quotas (TRQ), such as the US and the EU. Subsequently, the Argentine government announced measures to limit beef exports to 50% of 2020 volumes and ban the export of some cuts through to the end of August. Such measures could substantially restrict the volume of Argentine beef exports to China, its largest market. Moreover, the return to interventionist government policies will continue to cloud the long-term outlook for Argentine beef exports.
United States: the Phase-One Agreement struck between the US and China at the start of 2020 provided unrivalled technical access for US beef exports to China. Not only did the agreement wind back trade war tariffs, but the US was also permitted to export HGP-treated beef (albeit within maximum residue limits and with beta-agonists still banned) and beef from cattle over 30-months of age to China. Furthermore, the US was given the ability to apply a systems-based approach to China establishment approvals (unlike the rest of the world, which seeks approval on a case-by-case basis). This allows it to grant new establishments access at a time when COVID-19 has seen other countries' approvals grind to a halt. While initial trade was slow, US beef shipments to China have surged in recent months.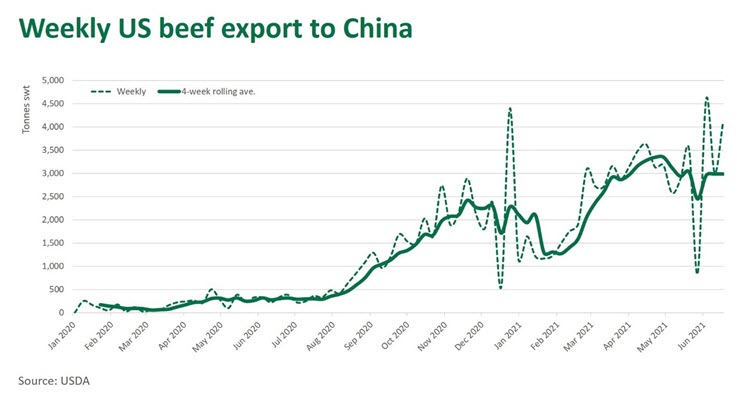 So, what could these changes mean for the China imported beef market?
Firstly, in the case of Argentina and Australia, it is unclear how long and in what form restricted access may persist. Both could be reversed at relatively short notice.
Secondly, while the Phase-One Agreement was a political deal, and the China-US political relationship has not improved under the Biden Administration, there is little sign that either party is about to walk away from the pact. Favourable US beef access to China looks reasonably safe, at least for the rest of 2021.
The bulk of Argentine and a large share of Australian beef exports to China are lower-priced commodity products, such as frozen manufacturing beef and hindquarter cuts. The US has not traditionally exported these items to North Asia, given its vast domestic appetite of such product to produce burger patties.
Reflecting variation in both quality and cuts mix, the average China import price of US frozen boneless beef in April was US$7.83/kg, compared to US$7.08/kg and US$4.49/kg for product from Australia and Argentina, respectively.
To replace the commodity beef from Argentina and Australia, other suppliers – such as Brazil, Uruguay and New Zealand – may need to fill in the gap, although the gap left by Argentina alone could be 200,000–250,000 tonnes per annum and beyond the means of one or a few major suppliers.
US beef in China is capitalising on the reduced presence of premium Australian product, particularly grainfed loin cuts, and tapping into the fast-growing demand for high quality beef in the market. While the US has a substantial supply base to draw on and Chinese demand is strong, China still needs to compete with the US domestic consumer and other affluent buyers in North Asia. Demand in the US is currently red hot, as the economy surges amid unprecedented stimulus and a successful vaccine roll-out, and beef prices have jumped going into summer. This pricing pressure may soon weigh in on US beef shipments to China.
In addition, overwhelmed supply chains and logistics have largely limited US beef exports to China to frozen sea-freight. Australia remains the largest supplier of chilled beef into the market.
To date, China's demand for imported beef has yet to show signs of receding. With Argentina and Australia limited by market access and other exporters already heavily geared to the market, China beef imports may soon come up against supply constraints. While the US is the world's largest supplier, it will continue to operate in premium, high-priced segments given its price point and need to balance the carcase domestically. That said, market access can change overnight, as evident recently, and will continue to shape the China imported beef market.
TheCattleSite News Desk