Bord Bia works with top chefs to support independent butchers with launch of grass-fed Christmas Feasts Campaign
Top chefs from across the UK have collaborated with Bord Bia (The Irish Food Board) to help support the nation's independent butchers and inspire consumers to try new grass-fed Irish beef cuts and cuisines this festive season.

The "Grass-fed Christmas Feasts" campaign sees Tom Cenci, John Chantarasak, Anna Haugh and Henry Harris share their favourite beef cuts and cooking tips and draw on their varied culinary backgrounds to create their own unique take on a show-stopping Christmas feast with grass-fed Irish beef providing the perfect centrepiece and delivering that special grass-fed taste.
The campaign will run four weeks from 10th December across PR, web, email and social media with the aim of reaching one million foodie consumers across the UK to help raise awareness of the premium qualities of grass-fed Irish beef and Ireland's unique grass-fed production systems.
Activity includes recipes, cooking tips, step-by-step YouTube video cooking tutorials and dishes on the menu at Tom Cenci's pop-up at 26 Grains in London's Borough Market.
The chefs recipes featuring premium grass-fed Irish beef cuts include:
Tom Cenci, one of London's most prominent chefs, known for pushing culinary boundaries with his eclectic and exciting menus recommends Grass-fed Irish bavette, paired with fiery Nduja sprouts this Christmas. Tom will be featuring this dish on his menu at 26 Grains in Stoney Street from week commencing 7th December as part of his sustainability focussed pop-up which celebrates the more unsung cuts of beef and nose to tail cooking.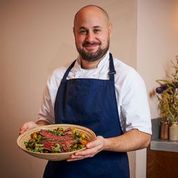 John Chantarasak, the top chef and owner of AngloThai and one of the most exciting new talent's on the London food scene, best known for marrying traditional Thai recipes and flavours with seasonal local ingredients. John has teamed up with Irish beef once again, following the successful launch of the now sold out AngloThai At Home: Irish Beef Banquet Box last month. John has created a Massaman roasted grass-fed Irish ribeye with beef fat curry potatoes and shaved brussel sprouts.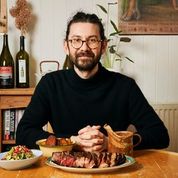 Anna Haugh, chef-patron of Myrtle restaurant in Chelsea has long been a champion of Irish food and is no stranger to grass-fed Irish beef. Anna celebrates modern European cuisine with an Irish influence and has created a Beef Wellington using grass-fed Irish chateaubriand wrapped in braised Irish beef boxty pancake.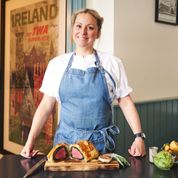 Henry Harris, of renowned Racine, has created a three course Racine dinner delivery box with HG Walter which celebrates Irish beef and the nostalgia for his Racine days. The box contains a 950g grass-fed Irish côte de boeuf, with roasted bone marrow, bordelaise sauce, wilted spinach and pommes anna as well as a step-by-step video on how to cook Irish côte de boeuf.
"We are really excited to collaborate with these four incredibly talented chefs who have a passion for using high quality ingredients. Christmas serves up the perfect excuse to get creative in the kitchen and try out new recipes using our world-class beef. Each chef has created an easy to follow recipe in their own unique cooking style which champions these fantastic premium cuts of grass-fed Irish beef," said Emmet Doyle, GB Meat Market Specialist, Bord Bia - The Irish Food Board.
"I have been using grass-fed Irish beef for over ten years now and it's produce I'm really passionate about. The farmers truly have the health and welfare of their cattle and landscape at their heart, something which is very important to me. Plus, there is so much depth of flavour that comes from the animals being grass-fed. I've used bavette in my Christmas recipe because it is a great cut which is full of flavour and it won't break the bank, it's really versatile and can be prepared in different sizes. It's perfect for feeding the few or the many this festive season, but you have to be quick to buy it, this is the cut the butchers usually like to keep for themselves," commented Tom Cenci.
"Grass-fed Irish ribeye is my absolute favourite cut of beef, it has the most amazing flavour from the cattle's slow growth, deep marbling and lush diet of grass, clover and yarrow. It is perfect for Christmas sharing celebrations, I hope this recipe will really inspire people to try something a little bit different for Christmas this year," commented John Chantarasak, AngloThai.
"I enjoy using any great produce, but using great Irish produce makes me particularly proud" commented, Anna Haugh. "Ireland is perfectly suited for rearing cattle. The farmers care for their animals using practices that have been handed down from generation to generation… that's really important to me and what I have in mind when choosing what goes on my menu. This Christmas I'm collaborating with grass-fed Irish beef to help inspire consumers to explore and experiment with premium cuts from their butchers, chateaubriand is a fantastic prime cut and certainly a great treat at Christmas," commented Anna Haugh, Chef Patron, Myrtle.
"I was lucky enough to travel to Ireland and walk through the lush green grass and see the animals outdoors grazing, alongside the fantastic care and attention by the farmers. I have been buying grass-fed Irish beef for many years because it is of a consistently high quality and some of the best beef I have ever eaten. I can't wait for you to enjoy this stunning côte de boeuf," commented Henry Harris.
The #GrassFedChristmasFeasts recipes and chef tips will be available on @Irishbeef, @Englishhippy @Tomcenci @haughser @henryharris, Facebook, Instagram and Twitter accounts as well as www.irishbeef.co.uk. For even more #GrassFedChristmasFeasts recipes and inspiration follow these accounts and share your recipes at #GrassFedChristmasFeasts
Irish beef can be found in major retailers nationwide right through to top end butchers and restaurants in London and across the UK.
TheCattleSite News Desk