US Beef Exports Down from Last Year
US - October beef exports were below the very high totals posted a year ago, according to data released by USDA and compiled by USMEF.

October beef exports totaled 108,017 mt, an 8 percent decline from last year's large volume, while export value ($649.1 million) was down 11 percent. Through the first 10 months of 2019, beef exports were down 2.5 percent in volume (1.1 million mt) and value ($6.75 billion) from last year's record pace.
Beef export value per head of fed slaughter averaged $284.56 in October, down 10 percent from a year ago, while the January-October average was down 4 percent to $308.04. October exports accounted for 12.9 percent of total US beef production and 10.5 percent for muscle cuts only, down from 14.1 percent and 11.6 percent, respectively, last year.
For January through October, exports accounted for 14.1 percent of total beef production and 11.5 percent for muscle cuts, each down about one-half of a percentage point from 2018, when a record percentage of production was exported.
October beef exports lower year-over-year in most markets
Tariff relief for US beef is also a key component of the new trade agreement with Japan, where competitors currently enjoy a significant tariff rate advantage. The rate for US beef muscle cuts is 38.5 percent but will drop by nearly one-third when the agreement enters into force, mirroring the 26.6 percent rate imposed on Australian, Canadian, Mexican and New Zealand beef.
Another rate reduction will come 1 April, when the Japanese fiscal year begins. October beef exports to Japan were down 21 percent in volume (21,315 mt) and 19 percent in value ($135.5 million). Through the first 10 months of the year, export volume fell 6 percent to 263,054 mt while value was down 7 percent to $1.64 billion.
"Japan's 38.5 percent tariff rate is the highest US beef faces in any major market," USMEF President and CEO Dan Halstrom explained. "It was a burden even when all suppliers were paying it but now it is especially important that both US beef and pork receive tariff relief. Japanese customers are very excited about the new trade agreement, and USMEF and our industry partners are ramping up 2020 promotions and strategies to reclaim red meat market share in Japan."
Beef variety meat exports to Japan (mainly tongues and skirts) have been a bright spot in 2019, increasing 21 percent in volume (53,432 mt) and 13 percent in value ($320 million, which is 40 percent of the worldwide total).
Japan's tariff rate for US beef variety meat is 12.8 percent, but under the new agreement it will drop to 5.8 percent for skirts and 5.7 percent for tongues upon implementation. The rates fall to zero by 2028 for tongues and 2030 for skirts.
US beef exports to South Korea slowed in October but remain on a record pace as Korea solidifies its position as the top growth market for US beef in 2019. October volume dipped 3 percent year-over-year to 19,637 mt, while value declined 10 percent to $138.4 million. But through October, exports to Korea were still up 7 percent in both volume (215,194 mt) and value ($1.55 billion).
Beef exports to Taiwan following a pattern similar to Korea, slowing in October but remaining on a record pace. Through the first 10 months of the year, export volume to Taiwan was up 8 percent from a year ago to 52,968 mt while value increased 3 percent to $470.3 million. The US holds nearly 75 percent of Taiwan's high-value chilled beef market.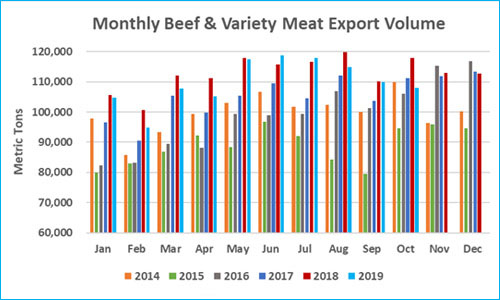 January-October highlights for US beef include:
In Mexico, the third-largest destination for US beef exports, volume was slightly below last year at 196,431 mt (down 1 percent), but value increased 4 percent to $916.4 million. This was largely driven by a sharp increase in the per-unit value of beef variety meat exports to Mexico, most notably tripe. Despite being up just 1 percent from a year ago in volume (80,789 mt), variety meat value to Mexico jumped 17 percent to $219.1 million.


Similar to Mexico, US beef variety meat is commanding stronger prices in Egypt, the leading destination for US beef livers. Through October, variety meat exports to Egypt were up 1 percent from a year ago at 53,504 mt but climbed 14 percent in value to $62.3 million.


Led by surging demand in Indonesia and solid growth in the Philippines, beef exports to the ASEAN region were 30 percent above last year's pace in volume (51,758 mt) and 15 percent higher in value ($251.5 million). Split fairly evenly between muscle cuts and variety meat, exports to Indonesia soared 72 percent in volume (19,889 mt) and 43 percent in value ($71.8 million) from a year ago.


Led by strong growth in Panama, beef exports to Central America were 7 percent above last year's pace in volume (12,802 mt) and 13 percent higher in value ($72.7 million). Export value also trended significantly higher to Guatemala, Honduras and Costa Rica.
TheCattleSite News Desk