FMD Outbreaks in Masvingo, Manicaland Province Lead to Death of Cattle
ZIMBABWE - Dr Unesu Hildah Ushewokunze-Obatolu, Principal Director at the Department of Livestock and Veterinary Services in Harare has reported eleven outbreaks of foot and mouth disease in Masvingo and Manicaland Province.
The outbreaks were first observed on 21 July and confirmed on 25 July after two tests - antibody detection ELISA and virus isolation - were conducted at the Central Veterinary laboratory and Botswana Vaccine Institute, respectively. While the first test resulted positive, results for the latter remain pending.
The World Organisation for Animal Health (OIE) received an immediate notification last week, 16 July. It has been determined that the affected population consists of cattle of varying age groups sharing the same grazing and watering points.
A total of 14,967 animals were found to be susceptible, out of which 1094 cases were reported. A total of 49 deaths took place.
The OIE reports that the outbreaks are occurring in FMD vaccination zones of the south-eastern lowveld which lies close to a national park (Gonarezhou) and wildlife conservancies. Routine vaccinations in these areas are now long overdue.
Mixing of cattle and buffaloes is being exacerbated by the shortage of grazing pastures. All the infected districts have been placed under quarantine with veterinary check-points also manned by police personnel placed at strategic areas to prevent cattle movement.
Inspections and community education campaigns are currently on-going.
Contact with infected animals at grazing/watering and contact with wild species have been narrowed down as the primary sources of the outbreaks.
Several control measures have been put in place by the OIE along with the Zimbabwean veterinary authorities.
The following map shows the locations of outbreaks: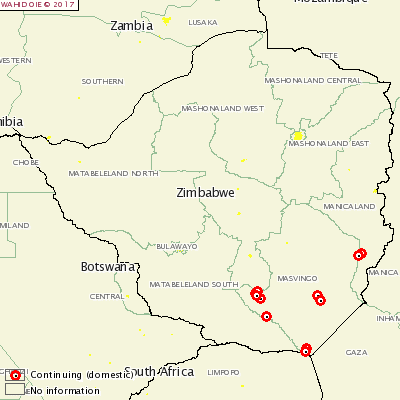 Further Reading
Find out more information on foot and mouth disease by clicking here.
TheCattleSite News Desk