Direct Interaction with Consumers Key to Dispelling Agricultural Myths
CANADA - According to Bruce Cochrane, the Executive Director of Farm and Food Care Saskatchewan says, by interacting directly with consumers, those involved in agriculture have an opportunity set the record straight on what they do and why they do it.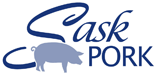 Farm-Scape is sponsored by
Manitoba Pork Council and Sask Pork
FarmScape is a
Wonderworks Canada
production and is distributed courtesy of Manitoba Pork Council
and Sask Pork.
Nominations are open until 30 September for Farm and Food Care Saskatchewan's second annual Food and Farming Champion Award.
Individuals or organisations in Saskatchewan who have helped promote and build public trust in agriculture are eligible.
Clinton Monchuk, the Executive Director of Farm and Food Care Saskatchewan, says it's important to explain to the public what farmers are doing, the different ways they're doing it and why to produce food.
Clinton Monchuk-Farm and Food Care Saskatchewan
The main background for the Champion Award is to celebrate individuals or organisations that have really pushed agriculture in their life or in what they're doing to make sure consumers get the full truth about where their food comes from.
We see way too often different things that come across social media that are not factual about the agriculture induistry.
Having agriculture champions or food and farming champions that are going out and saying this is why we do these things, this is the reason why we grow GMO crops or why I use antibiotics for my cattle, it helps the consumers understand a little bit better why we do the things we do, helps educate them so when those things comes acrosss their Facebook or Twitter, they can say, I value the opinion of this farmer or rancher and I'm going to take their word for it so I feel confident in what I'm eating or what my family is eating tonight.
Information on submitting a nomination for the Food and Farming Champion Award can be found on the Farm and Food Care Saskatchewan web site at farmfoodcaresk.ca.
This year's winner will be named on 14 December during Farm and Food Care Saskatchewan's Farms at the Table Conference in Saskatoon.
TheCattleSite News Desk