Colombia Reports Two Outbreaks of FMD in Cundinamarca
COLOMBIA - The Colombian veterinary authorities have reported two further outbreaks of Food and Mouth Disease (FMD) at cattle farms located in Cundinamarca.
According to Follow-up report no.2 sent to the World Organisation for Animal Health (OIE), the first outbreak took place on 20 June, wherein the diseased bovines comprised males aged one to two years.
While no new outbreaks were reported in our previous report, antigen (Ag) detection ELISA and polymerase chain reaction (PCR) tests were conducted at the National laboratory for veterinary diagnosis on 9 and 10 July respectively, confirming the presence of the FMD virus.
The second occurred on 24 June. According to the OIE, the animals that got sick consisted of three calves aged under a year along with five females over three years old.
A total of 83 bovines have been found to be susceptible to the FMD virus, serotype O, out of which 83 animals were affected and two were found dead. None of the animals were destroyed or slaughtered.
The OIE reports that the area has high vaccination coverage, the farm has vaccination in force and the corresponding epidemiological investigation is being carried out.
While the source of the outbreaks remains inconclusive, the investigation is ongoing.
Map of outbreak locations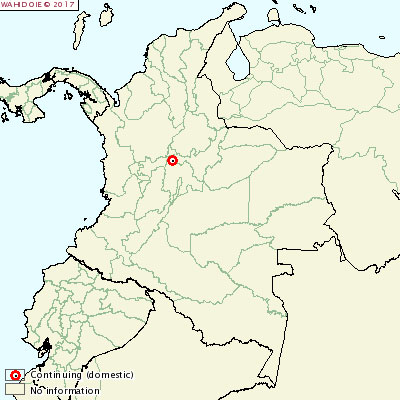 Further Reading
Find out more information on Foot-and-mouth disease (FMD) by clicking here.
TheCattleSite News Desk