Farmers Advised to Pay Attention to Power Lines
CANADA - Saskatchewan Agriculture is encouraging farmers to pay attention to power lines following a high number of power line contacts involving farm equipment this past month, reports Bruce Cochrane.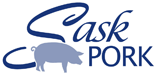 Farm-Scape is sponsored by
Manitoba Pork Council and Sask Pork
FarmScape is a
Wonderworks Canada
production and is distributed courtesy of Manitoba Pork Council
and Sask Pork.
Saskatchewan Agriculture's weekly crop, issued Thursday, notes SaskPower has reported over 60 power line contacts this month involving farm equipment.
Shannon Friesen, a Regional Crop Specialist, with Saskatchewan Agriculture, says farm safety is always something that we want to keep at the front of our minds especially as we come down to a real time crunch in the next couple of weeks.
Shannon Friesen-Saskatchewan Agriculture
May is always a busy time of year.
Not only are they trying to seed, they are trying to also wrap up harvest.
Many producers were able to in the last week but quite a bit of crop still remains out there.
Livestock producers are moving cattle, they're fixing fences, many things that do present safety issues as everything is kind of done all at once and in a rush.
Many producers have been going 24-7 in order to get the crop in or the crop off so, in terms of farm safety, we do encourage farmers to try and get as much rest as they possibly can, making sure they are checking equipment, they are trying t avoid power lines.
We have had quite a high number this spring of power line contacts involving farm equipment.
In fact we've had 67 in May so far and 23 of those were in between May 15 and May 21.
We do want to encourage farmers to pay attention to where the lines are, to work with SaskPower if they need to get around those power lines because power can mean severe accidents and even death.
We do encourage farmers to try to do as much as they can to get home safely.
Friesen notes safety information is available on the SaskPower at www.saskpower.com/safety.
TheCattleSite News Desk