US Beef Exports Strong During November
US - US red meat exports continued to build momentum in November, highlighted by a new monthly volume record for pork exports. Both pork and beef exports exceeded year-ago levels by more than 20 per cent in both volume and value, according to statistics released by USDA and compiled by USMEF.

November was a very strong month for beef exports, which totaled 155,335 mt – up 20 per cent year-over-year and the largest since July 2013. Export value increased 21 per cent to $619.1 million, the highest since December 2014. This pushed January-November export volume to 1.07 million mt (up 10 per cent year-over-year) valued at $5.72 billion (down 1 per cent).
November exports accounted for nearly 15 per cent of total beef production and 11.7 per cent for muscle cuts only – the highest levels since 2014. January-November exports accounted for 13.5 per cent and 10.3 per cent, respectively – up from 13 per cent and 10 per cent during the same period in 2015. Beef export value per head of fed slaughter reached a 2016 high of $294.39 in November, up 5 per cent from a year ago. For January through November, per-head export value averaged $258.48, down 7 per cent.
"With recent increases in both pork and beef production, the US industry faces a significant challenge in terms of moving these larger supplies," said Philip Seng, USMEF president and CEO. "But with aggressive and well-targeted international marketing efforts, this also presents an outstanding opportunity to grow our market share in established export destinations and cultivate new opportunities in emerging markets. US exports are achieving success on both fronts, and USMEF is committed to keeping this strong momentum going in the New Year."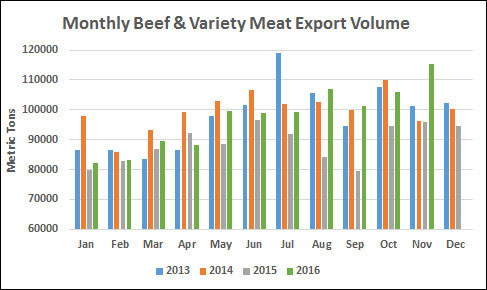 Led by Japan and Korea, Asian markets shine for US beef
Following a down year in 2015, US beef exports to Japan continue to stage a very impressive rebound. November exports to Japan surged by 63 per cent in volume (23,598 mt) and 58 per cent in value ($149.5 million) from a year ago. For January through November, export volume increased 24 per cent to 237,234 mt. This included a 44 per cent increase in chilled exports to 102,090 mt. January-November export value to Japan increased 16 per cent to $1.39 billion.
Beef exports to South Korea have already set a new value record ($929.3 million, up 25 per cent), breaking last year's mark of $847.4 million in just 11 months. When 2016 results are final, Korea will become the fifth market (joining Japan, Mexico, Hong Kong and Canada) in which US exports have exceeded $1 billion in a single year. January-November export volume to Korea was 158,947 mt, up 38 per cent year-over-year. This included a 37 per cent increase in chilled beef exports to 20,325 mt.
Other highlights for US beef exports include:
November was another very strong month for beef exports to Taiwan, pushing January-November results 22 per cent above of the 2015 pace in volume (39,299 mt) and 10 per cent higher in value to $319.5 million – already setting a new full-year value record.


Fueled by a resurgence in shipments to Indonesia, January-November beef exports to the ASEAN region increased 32 per cent in volume (26,003 mt) and 8 per cent in value ($138.6 million). Exports also posted impressive gains in Vietnam, helping offset lower exports to the Philippines.


Beef exports to Mexico continue to strengthen in volume, which was up 8 per cent through November to 217,790 mt. Export value to Mexico was down 10 per cent to $891.1 million.


Beef variety meat exports increased 10 per cent from a year ago in volume (308,712 mt) through November and 4 per cent in value ($820.7 million). This performance was bolstered by the addition of Indonesia, which reopened to beef variety meat in August, and South Africa, which was closed to all US beef products until last January. Both are now top 10 volume markets for beef variety meat.
TheCattleSite News Desk