CME: Pasture Conditions Even Better than Last Year
US - As fed cattle prices have declined in the last few months, there is more discussion about the pace of herd rebuilding in the US and the outlook for beef supplies in the next 2-3 years.
USDA will offer some insights in that regard when they publish the July 1 inventory numbers at the end of next month but indications are that inventories will continue to expand.
One big unknown each year are grass supplies and the ability of cow-calf operators to support an ever expanding beef cow herd.
In 2011-12 drought forced a dramatic liquidation of the beef cow herd in the Southern Plains and set the stage for all time record cattle prices in 2014-15.
Pasture conditions in 2014 and 2015 were well above average, allowing producers to expand rapidly and bring more cattle to market this year and next.
Conditions this spring are tracking even better than a year ago and all indications are that producers are not taking their foot off the gas. As long as they have grass they will hold back a few more heifers and maintain the cows they have.
The latest USDA crop progress report indicated that about 66 per cent of US pastures and ranges are rated in good or excellent condition. Last year at this time about 61 per cent were rated as such and the 10 year average is around 53 per cent.
The short term NOAA outlook calls for above average moisture in the Southern Plains for the month of June and a look at the drought monitor map reveals just a few areas (except for Southern California) experiencing mild drought conditions.
Based on this, we would expect pasture conditions to continue to improve through the month of June and likely stay above the long run average into the summer and early fall.
There is a lot of talk among grain analysts about the return of La Nina this year and implications that for drought conditions. The timing will be critical but, as it now stands, it appears producers will be able to take advantage of the ample grass supplies and build strong hay inventories for the winter months.
Talking about good pasture conditions becomes more meaningful when we consider what cow-calf operators have been doing in the last 24 months and what they are doing today.
Feeder cattle prices are down from the astronomical levels we saw in the fall of 2014 but current prices still are about 40 per cent higher than what producers received in the 2000s.
Excellent pastures and ample grass are allowing producers to hold on to their female cattle and thus set the stage for further cattle herd increases down the road.
Last year the ratio of female slaughter (this is the total number of cows and heifers) vs. total cattle slaughter was around 44 per cent. As the second chart to the right shows, this was the lowest 52-wk average ratio since at least 1991 and helps explain the big jump in cattle inventories on January 1, 2016.
There is a strong correlation between the female slaughter ratio and cattle inventories. Intuitively this makes sense because as producers hold back more heifers and lower the cow culling rate eventually this means more calves coming to market.
For the last four reported weeks the ratio is 41 per cent, near the levels we saw last year at this time. For the year the ratio stands at 45 per cent compared to a year ago when for the same period the ratio was 47 per cent.
Producers continue to hold on to female calves and will do so as long as grass is plentiful. We already expect more beef in 2017 and current trends show that even more will be available in 2018-19.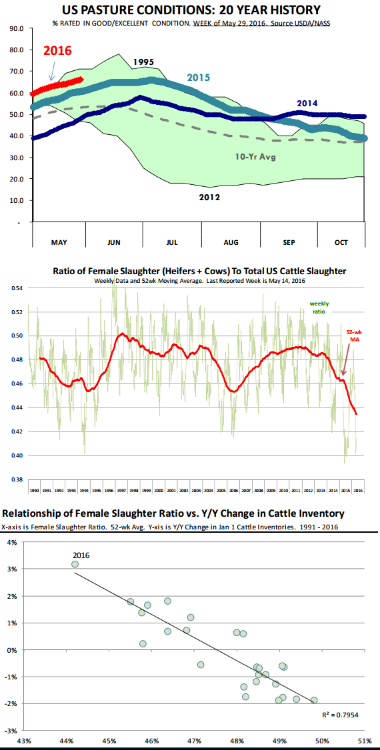 TheCattleSite News Desk