WASDE Bearish for Beef - Higher Slaughter, Heavier Weights
US - Friday's USDA World Agricultural Supply and Demand Estimates (WASDE) report boosted beef production for 2015 based on a larger forecast of slaughter of fed cattle in the second half of 2015 and heavier carcass weights.
USDA's monthly supply/demand report was deemed moderately bearish for beef, according to Allendale, Inc. analyst Rich Nelson.
"It was not a surprise but was viewed in a negative light. The 2015 beef production forecast was increased by 245 million lbs over their previous estimate to 23.859 billion. This was made due to the recent jump in kill numbers and weights," Nelson said. "It sounds reasonable but their Q4 production estimate comes to 6.175 billion, up 2.6 per cent. With two weeks of Q4 done now, we have yet to hit that number. Does USDA not believe that the worst is behind us?"
The 2016 forecast was also raised due to cattle slaughter and carcass weights in the first half were projected higher than last month.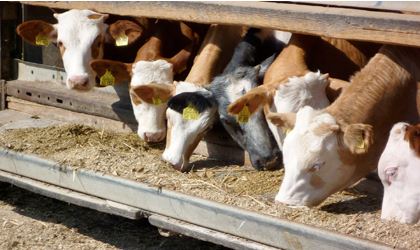 "The October WASDE raised USDA's estimate of 2015 beef production by 245 million pounds and lowered their forecast of the 2015 average price for slaughter steers to $149.19/cwt. They are predicting 4.9 per cent more beef in 2016 and an average price for fed cattle that is $2 to $13/cwt lower than this year," said Ron Plain and Scott Brown, University of Missouri Ag Economics, in their weekly Cattle Outlook.
Beef imports were unchanged for 2015 and 2016. Beef exports for 2015 and 2016 are lowered as demand is projected to remain relatively weak.
Cattle prices for 2015 and 2016 were reduced from last month on current large supplies of market-ready cattle, weaker demand and competition from relatively large supplies of competing meats.
Last week's US cattle kill ran 557,000 head which is 1.3 per cent under last year. With weights, running about 3 per cent larger than last year, beef production this week was 1.5 per cent higher. Nelson expects kills to run about 1 per cent under last year in the coming weeks as northern cattle are marketed.
"The October WASDE reduced USDA's estimate of 2015 corn production by 30 million bushels and cut the soybean production estimate by 47 million bushels. USDA raised the 2015-16 marketing year corn price forecast by 5 cents to $3.50-$4.10 per bushel, but left the soybean price forecast unchanged at $8.40-$9.90 per bushel," reported Plain and Brown.
Cash Hog Prices Expected to Decline
"USDA raised their prediction of 2015 pork production by 55 million pounds and put their forecast of the 2015 average price for barrows and gilts to $50.82/cwt," reported Plain and Brown in their weekly Hog Outlook. "They are predicting 1.4 per cent more pork in 2016 and an average price for market hogs that is $1 to $4/cwt lower than this year."
WASDE said the pace of hog slaughter in the remainder of 2015 is expected to be higher. USDA's Quarterly Hogs and Pigs Report estimated less of a decline in sows farrowing during June-August than indicated in prior intentions and farrowing intentions into early 2016 support an increase in forecast pork production for 2016.
Pork export forecasts are unchanged, but a small increase is made to third-quarter 2015 imports based on recent trade data.
Hog prices were raised for both 2015 and 2016 as USDA indicated that demand has firmed.
As for last week's slaughter, it was up to 2.290 million head and is the largest kill yet of this increased supply trend that has been seen from summer and will go into winter. It is also the second largest kill week of the year; January 24th's 2.317 million was the previous largest run from last winter. Compared to last year, last week's US kill was 6.8 per cent higher.
"USDA's estimate of weights was a bit lower than we expected but gave us pork production 5.1 per cent higher. Weekly kill numbers will increase until late November and this is a normal seasonal issue," said Nelson. "The only change is, instead of running 11 per cent more hogs like we were in August, we are now about 7 per cent more.
While the market may not be in a downtrend yet, the period of new highs after new highs is now over, said Nelson.
Further Reading
You can view the full report by clicking here.