Must Listen to Consumer on Cattle Feeding Debate
ANALYSIS – A plethora of choices is available for US beef consumers and the cattle industry needs to listen to what they want, according to ranchers at the NCBA cattle industry convention.
Extensive feedlot systems provide a popular product for the US and world market but growing interest in other rearing options is not going ignored.
Antibiotic free, genetically modified organism free and hormone free beef, as well as organic varieties, are all jostling for space on the plate.
"We've got a lot of competition out there but the US beef system has something for everybody," California Rancher Darrel Wood the convention last week. "I think this is an important story to tell."
Mr Wood raises organic, grass-fed cattle on 40,000 acres of northern California rangelands, selling 200 head a week and admits that he's had his doubts over going down the unconventional route.
Marketing Those Meals
He started feeding grass-fed cattle in 2001. In those early years he really had to "hard sell".
"Grass fed was totally new then and people wanted to try," he told the convention. "People wanted sirloins and ribeyes but other ground beef cuts started to add up."
"We took quite a hair cut in those early days."
Now, Panorama meats uses the animal "from nose to tail". He stressed that selling from an inventory is not the way to go – you need to sell the whole animal at once.
Describing the reaction to his move into grass-fed beef, he said: "People thought I was throwing the rest of the industry under the bus. We're just trying to sell more pounds of beef."
In terms of the limiting factor organic production has on the drugs cabinet, Mr Wood says his cattle have few problems and that pasture rotation is enough – antiparasitic products aren't needed.
"You have to go back to basics and establish a great vaccination programme. Our calves get three rounds of vaccine and we rarely get a sick animal," said Mr Wood. "However, we do doctor sick animals."
The treatment is logged and the animal is not marketed as organic.
Grazing the California Way
He admitted that consistency of finishing varies across the year. Extremely lush grasses and hard, mature grasses give a different experience but he said the consumer expects this.
Fellow Californian, Darrel Sweet, supplies grass-fed cattle for the Harris Ranch brand and told the conference "there's tremendous opportunity across many different ways of raising cattle".
He has cattle out on Mediterranean climate annual grasslands 365 days a year. They fall-calve with the goal of having calves big enough by January so they can graze fresh grass come spring.
Once weaned, calves transition to grass with the aid of a grower pellet for 35 to 40 days.
He explained: "As they make the transition to grass the grower helps them hold their weight together."
While providing cattle for an 1150 cattle a day production line requires extra paper work, he says he has flexibility, able to do what suits his operation, and gets "tremendous" records back on his cattle.
"If they're doing well, we're doing well and we don't have a lot of extra costs," he said. "The extra record keeping should be done anyway."
In a drought stricken California, where feed costs are particularly high, Mr Wood has needed to feed organic hay.
He said premiums for his product are around 20 to 30 per cent and has wondered if the feedlot sector would have offered an easier ride.
"There was a lot of times a year ago when I wished to take them to a feedlot but I stayed loyal," he said, adding that there have been some "expensive times" for feedlotters back when corn was at $8 per bushel.
Is Yellow Fat a Problem?
For those familiar with cooking grain-fed beef, a little education may be needed for grass-fed and this is part of the role of young ambassadors, elected each year as part of the National Beef Ambassador Program.
One of the senior ambassadors, Alicia Smith, Texas, told TheCattleSite that the industry would advise consumers differently on grass-fed beef and look at marinades, different cooking styles and explain what yellow fat is.
"Grass fed beef is going to need a certain amount of fat, oil or butter when you cook it and the fat is going to be yellow," she said. "This can be a surprise for consumers but the carotenes make the fat yellow when they eat grass."
Colleague Will Pohlman, Arkansas, said of grass-fed beef: "Some people may desire it on sustainability grounds but importantly it provides the same great eating experience with the same nutritional value."
Yellow fat has not been an issue on Mr Wood's operation. He sends cattle for slaughter at 18 to 24 months meaning they are "too young" to put on yellow fat.
Rather than being "perfectly white", Mr Wood described it as an "ivory colour".
He added that grass-fed cattle can be a little leaner and also show more product seasonality than conventional feedlot beef, but Mr Wood says people don't mind.
"The grass-fed consumer is a different consumer to the rest of the industry, they are a small select group who understand there will be differences," said Mr Wood. "Spring and summer they see good value but towards the fall they expect to see some differences."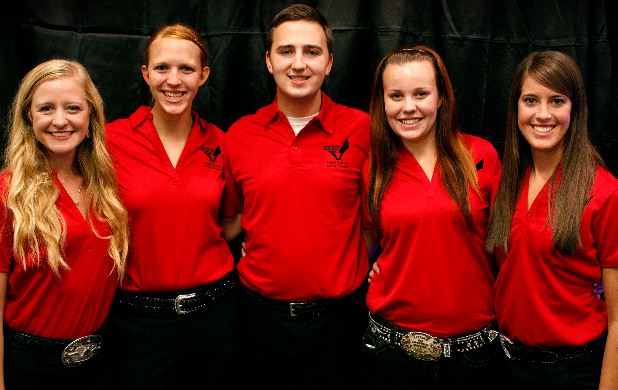 National Beef Ambassadors 2015, Senior Divison - Kalyn McKibben (Oklahoma) Rachel Purdy (Wyoming) Will Pohlman (Arkansas) Alicia Smith (Texas) Demi Snider (Ohio)
Photo courtesy of National Beef Ambassador Program
Push and Pull Factors in the Future
Consumers need to see and experience farming, according to Mr Sweet. He stressed the importance of education in the beef debate.
"I find it remarkable how little people know about grass-fed beef," he told the convention. "The more consumers get exposed to ranching and what it takes to raise a cow, the beef industry will benefit - its a good discussion to have."
With her eye on the future, beef ambassador Rachel Purdy, Wyoming, said: "I think cattle producers need to focus on more options for producers, we are seeing a bit of push back on GMO and hormones.
"Foreign markets are going to be important and this may bring traceability forward as an issue."
And while there is no centralised traceability system in the US, individual operations can do a lot to show the consumer what kind of life an animal has had.
Beef ambassador Kalyn McKibben, Oklahoma, said: "While we don't have traceability nationally, on our farm we register all our cattle, this is important for pedigree herds and we tag them and can keep track of vaccine programmes and withdrawal times through recording."
In order for this to become more established, ranchers need to see people paying for it, she added.
"Transparency is not an option anymore," said Will Pohlman. "The public will make their own decision, whether that's on informed knowledge or just what they perceive."
Michael Priestley
News Team - Editor
Mainly production and market stories on ruminants sector. Works closely with sustainability consultants at FAI Farms