Tariffs to be Lifted on Red Meat to Taiwan
NEW ZEALAND/TAIWAN – Taiwanese red meat buying has received a further boost following entry into an economic cooperation agreement with beef and lamb provider, New Zealand.
The agreement will remove tariff barriers on beef by 2015 and sheep meat by 2017, the government announced yesterday.
Producers and processors have welcomed the announcement. Beef and Lamb New Zealand's Chief Executive Officer, Dr Scott Champion described the news as an 'excellent result'.
Taiwan is a considerable market for New Zealand farmers, standing third in the exports market in terms of value (NZ$ 134 million) and fourth by volume (19,647 tonnes) last year.
This is according to Bill Falconer, Chairman of the Meat Industry Alliance who said: "Taiwan is New Zealand's largest market for primary beef cuts, with New Zealand beef being well received because of its grass-fed origin and superior nutritional benefits."
"Demand for New Zealand sheepmeat is also strong in Taiwan," he continued, citing Taiwan's high proportion of mutton used for traditional dishes as one reason.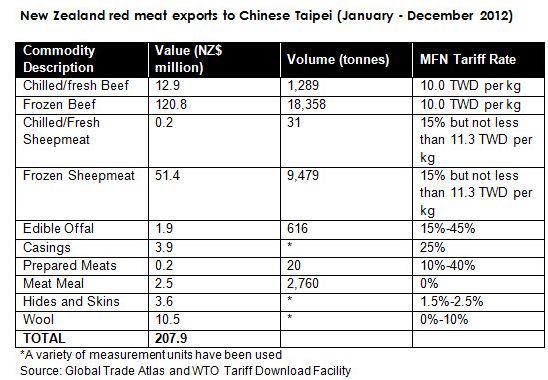 TheCattleSite News Desk